An international designer and manufacturer of lifesaving and fire safety equipment storage will be working to raise the profile of its fire storage cabinet range at SMM.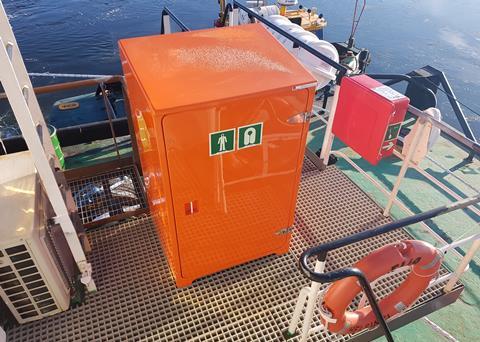 Jo Bird & Co Ltd is looking to reach new markets in the marine industry with bespoke products for different sectors including high quality finishes for cruise ships and more cost-effective injection moulded versions for the workboat and cargo sectors.
"Using durable high quality cabinets manufactured with UV inhibitors in the gelcoats will save ship owners money in the long term and minimise the maintenance required," said Tom England, project sales manager, Jo Bird & Co Ltd.
"It also means the contents will be kept in perfect working order. There is a lot of focus in the marine sector on price but this isn't always in the best interests of the ship owners. We wish to increase awareness of the benefits of using our cabinets to ship owners in the cargo marine market."
Customisation
For the cruise ship sector, Mr England said that most cabinets are white in colour with 316 stainless steel hinges, but more aesthetically pleasing versions with teak effect lids and numerous other finishes such as carbon fibre can also be supplied.
Some key selling points for the cabinets include Lloyds type test approval, ABS product type approval, a High IP rating of 56 and a 20-year design life with five-year guarantee.
There is also an option for hurricane/cyclone specification and the option of heated cabinets for polar waters.
Jo Bird is launching the new SOS300 injection moulded cabinet at the SMM exhibition.
According to Mr England, this cabinet offers very good value (roughly half the cost of Firebird GRP alternative) with a good level of protection and excellent corrosion resistance. This is because the body has UV inhibitors and the hinge is 316 stainless steel.
Jo Bird White chests (JB72 and JB75) have been supplied to store survival suits on the Carnival cruise liners AIDAluna, AIDAvita, AIDAcara and AIDAaura.
On the other end of the shipping scale, the company has recently supplied a JB08FE fire equipment cabinet to the Fangio II oil spill recovery vessel built by Manor Marine and destined for the Mombasa port authority.
It has also supplied numerous heated JB15.400 Lifebuoy cabinets for the Polar LNG tankers operating in the Arctic transporting gas from the Yamal site in Northern Russia. These cabinets not only have to survive temperatures down to -50C but also feature explosion proof electrical components.
Visit Jo Bird/Pronomar on stand B7.710, Hall B7 at this year's SMM exhibition.
By Anne-Marie Causer