A unique electric driver interface is being developed and tested to aid the transition into electric boating.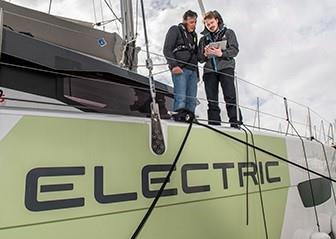 Volvo Penta is developing the electric driver interface within its Glass Cockpit System to help the industry move into electric vessel use by making operations as easy as possible. More than 100 stakeholders, including OEMs, captains, partners, and dealers, worked with Volvo Penta's UX team to test the entire electric saildrive concept in a 'real-life' context during a workshop onboard an electric catamaran, also developed by Volvo Penta alongside its partner Fountaine Pajot.
Anna Lindgren, director of marine product planning at Volvo Penta, said: "The prototype is being designed for use across our marine electromobility platform, but testing it onboard the catamaran has provided a great chance for us to capture learnings and feedback easily."
The electric driver interface will support the driver in making accurate decisions during the usage of the boat. This will include functionality to monitor maneuvering of the boat as well as monitoring of the energy balance for the battery. All energy consumers connected to the battery as well as all energy contributors need to be considered to assist the user in making decisions on routes and boat usage.
Tobias Ångman, UX designer at Volvo Penta, said: "Electric drivelines are very different from combustion engines; they don't behave in the same way when it's put into gear – you don't have the sound or the vibrations – so other sources of information become important to the driver."
By Rebecca Jeffrey