Global salvage operator Ardent has completed the removal of a sunken jack-up off the coast of Mexico in what is reported as the largest wreck removal project of 2016.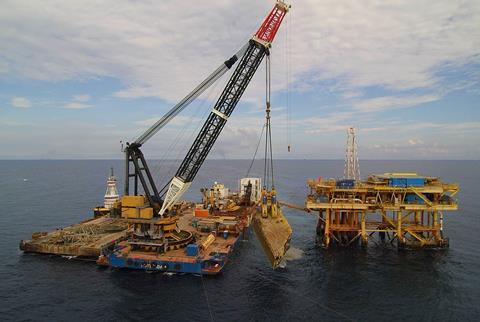 The Troll Solution suffered what was described as a 'debilitating accident' while working on a wellhead platform in Bay of Campeche Mexico in 2015. Efforts were made to salvage the jack-up at the time but it subsequently sunk in around 30m of water just 2m from the platform.
Ardent was contracted to remove the wreck and equipment was assembled from around the world for the task. The Netherlands-based Conquest Offshore mobilised its 136m barge Conquest MB-1 which with its 1,400t crane was previously deployed by Titan Salvage, Ardent's pre-merger company to assist recovery of the cruise ship Costa Concordia in Italy. Additional equipment for the Troll Solution task included a 1,000t wreck grab, also from the Netherlands and support vessels from the US and Mexico.
Rather than adopting more conventional cutting methods, Ardent chose to use its newly designed Guided Guillotine to cut up the wreck. Ardent naval architect Roland De Marco explained: 'Traditional methods require either a push or pull-cut with chains or diamond wire. Pull-cuts require tunnels to be bored into the seabed, whereas push-cuts require a large framework to be built around.'
Shelby Harris, Ardent Americas operations director commented: 'The main hurdles to overcome were, how best to cut the jack-up into sections without fabricating an elaborate structure, and boring holes underneath the jack-up through the seabed was impossible due to obstructions.' Adding: 'We had to apply ingenuity to use our chain cutting techniques on the deck house in a less than conventional method, and the Ardent Guided Guillotine sectioned the hull. The method worked very well.'
The ability for the guillotine to operate with precision underwater enabled the structure to be cut into manageable sections for lifting to the surface. The deck house was cut into six pieces with chain pullers, the remaining hull being cut into 31 pieces with the guillotine.
Involvement of Conquest MB-1 allows the opportunity to look in detail at this relative newcomer to the offshore heavylift market also capable of operating in the salvage and wreck removal business.
Conquest Offshore BV is a Dutch JV between Paul van Es Holding BV and Zwagerman Offshore Services BV its main asset Conquest MB-1, capable of year-round operation in harsh environments and in full compliance with UK, Dutch and Danish operating guidelines. The 19,800dwt crane barge has 3,400m2 of free deck, an anti-heeling ballast pump arrangement and four-point mooring system. The Spacelift MC35000 DLS 1,400t lift main crane is a new type of main crane designed for offshore projects and is in addition to a 300t crawler crane. Fixed accommodation for 12 persons is upgradable to 60-300 additional personnel.
By Peter Barker