BigLift Shipping's 'Happy Star's two heavy lift mast cranes have been upgraded to 1,100mt lifting capacity each at the Huisman Service & Assembly location in Schiedam, the Netherlands.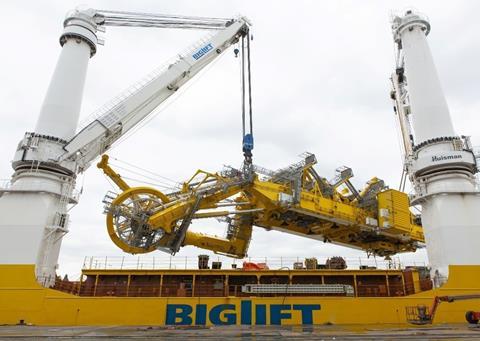 BigLift has noticed a growing demand for heavy lift vessels with lifting capacities of over 2,000mt. With the crane upgrade of Happy Star, BigLift has broadened its palette of shipping options, now offering crane capacities up to 2,200mt in tandem lift. The cranes themselves kept their unrivalled lifting height and outreach. A fly jib can still be used for extra outreach.
The further functionalities to operate the cranes even more efficiently and safely, such as man riding, offshore load curves and an anti-collision system, were installed or upgraded. The modification went exactly as planned and BigLift has complete faith that Happy Star will keep on meeting the expectations of being the flagship of a leading heavy lift shipping company.
BigLift Shipping is member of Spliethoff Group with a history dating back to 1973. BigLift's fleet consists of 14 modern heavy lift vessels with lifting capacities up to 2,200mt, and two state-of-the-art heavy transport (MC-Class) vessels.
By Jake Frith