It's been said that the Skaala family "drank lifeboat production along with their milk"; the father starting the original Harding factory in Norway with the oldest son Geir driving Norsafe to multinational status. So it's not surprising the youngest, Bjarte, soon followed, finishing the lines of his first 20ft workboat at barely 18.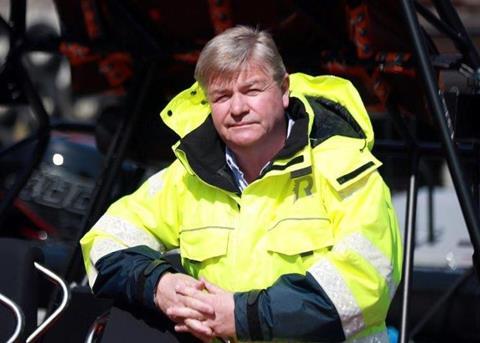 Bjarte Skaala is something of a phenomenon, taking a Rolls Royce Merlin engine apart and reassembling it while still at school. However while he has some of the first freefall lifeboats as well as a number of well known FRC names to his credit, he explained he needed a handful of significant figures to give his ideas some solid "ballast".

"My naval architect father taught me a lot about design for both performance and effective production", he said, while the well-known Renato 'Sonny' Levi helped him gain insight into speedboats. However, it was his magnetic, entrepreneurial brother who gave him his first real break.

Working for Geir gave him the room to develop his first, 6.7m enclosed lifeboat; this was soon followed by the Merlin 580, a waterjet-propelled fast rescue craft which, with a couple of changes, "is still in production after 28 years" he added. A steady stream of well-received designs followed, including the high speed Mako, Maya and Magnum patrol and rescue craft, the Munin series and of course the GES freefall lifeboats, the pair becoming a formidable industry team. Therefore the recent, sudden loss of Geir has hit him especially hard "as he was the first one I called when I came up with a new idea".

Despite the auspicious beginnings it's not all been plain sailing, "with so many moments on the learning curve that it would make a very thick book". However, a mixture of intuition and stubbornness sometimes pays off: when the new GES 52 freefall lifeboat didn't behave as expected "everybody was sure it was something to do with the centre of gravity being wrong in relation to the centre of buoyancy," he said, but he was equally certain this wasn't the case.

Hours spent analysing the videos unearthed the cause: the boat developed a heel in the air caused by a weakness in the test-ramp... but even when shown the footage others remained sceptical. So he takes a certain, personal satisfaction over the GES 52's world-record breaking 66.8m freefall, accomplished "without a scratch on the boat afterward".

Having set up his own supply company, Univa, back in 1999 as well as founding the Merlin Marine Advisors consultancy in 2014, he sees a rise in interest for 'modularity'; for example just one hull could see the propulsion unit designed for a number of waterjet options, powered by different sizes of outboard, single or twin engines and so on. "Modular thinking also means using the same design for open and enclosed boats," he added. "Two different, practical uses for the same hull."

After three decades, it's clear that Bjarte Skaala is still full of ideas.
By Stevie Knight