Slovenian tug owner Ocean Koper DOO recently took delivery of a new ASD tug highlighting the increasing contribution to tug construction by Turkish shipyards, in this case from Istanbul-based Bogazici Denizcilik.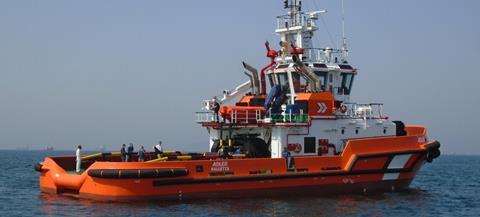 The European tug building scene is dominated by a handful of small and not so small yards building vessels to their own and other well-known naval architects designs. This latest example to report sees the ASD tug Adler delivered by Bogazici Denizcilik to Ocean Koper, part of the Italian Ocean Team group. The contract for construction of yard number 58 was signed by Mr Radko Malacic, general manager on behalf of Ocean Koper with the vessel, built to a design from Cintranaval-Defcar Spain now in service
Adler is built to BV rules with the notation: IX HULL, XMACH, Escort Tug, Salvage tug*, fire-fighting ship 1, Water spraying, Unrestricted navigation XAUT-UMS, IWS. The tug's specification indicates a multi-purpose vessel capable of salvage and oil recovery duties.
Dimensions are: LOA 32.5m, moulded breadth 11.7m, depth 5.6m and design draught of 4.3m. Propulsion is provided by two Caterpillar 3516C main engines each developing 2,100kW at 1,600RPM in turn driving twin Schottel SRP 1515 CP azimuth thrusters. Auxiliary machinery includes two Caterpillar C9 engines of 150kW each and performance figures are quoted as 72.44tbp ahead with a free running speed of 14 knots.
Deck machinery includes a single split-drum Kraaijeveld Safe Winch (combined towing and anchor windlass) forward and a Kraaijeveld double-drum towing winch aft. The forward winch has a nominal pull (first layer) of 70t and 200t brake holding load. Corresponding figures for the aft winch are 45t and 150t respectively. A 70t Data towing hook is included aft.
A Palfinger PK 18500 (M) C deck crane is included along with two fifi water/foam monitors from FFS. Fuel capacity is 261m3 and crew facilities are provided for six persons on sea duty and three for port work.
By Peter Barker