According to German propulsion experts Voith, crew transfer vessel operators using its new Voith Linear Jet marine propulsion system can save over £75,000 in fuel costs in a season.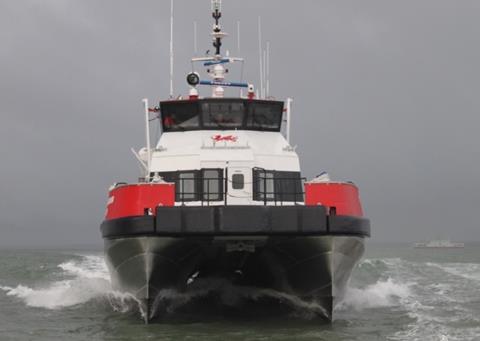 The dramatic cost saving, around 20 per cent, is a key figure from the collection of extensive data from four months' operation in a range of sea conditions, working at different speeds and with different loadings.
The Voith Linear Jet, unveiled last year as a "world first" in marine propulsion technology, combines elements of two existing technologies – conventional screw propellers and water jets.
"Last year's sea trials were impressive for a prototype," said Mark Harvey, Voith Turbo's marine manager. "But we believe the data we have today from real working conditions demonstrates that the VLJ is now a tried and proven product."
The latest figures have been obtained by operating the VLJ in Turbine Transfers' Treardurr Bay, a 21-metre catamaran, designed by BMT Nigel Gee and built by Aluminium Marine Consultants.
The VLJ's performance has been compared to published data from operators using crew transfer vessels fitted with water jets and working in the offshore wind farm sector.
"At 25 knots the VLJ uses only 340 litres of fuel an hour compared to conventional technology that consumes 420 litres – a saving of 80 litres an hour," said Mark.
"In a season a CTV boat would typically work 3,000 hours. With marine diesel currently at 32p a litre an operator would save £76,800."
"Even on a typical 12-hour daily operation the saving would be over £300 every day."
Mark added: "Sea trials have already established that the VLJ produces more thrust with less noise than conventional technologies. It can also operate in more severe conditions than other boats.
"We are currently collating data from 12 months' operations on a range of parameters, such as the key area of bollard pull, which we plan to announce at a Press conference at Seawork International."
By Jake Frith