In another sign of consolidation within the towage industry Boluda Towage has acquired the port towage activities of Iskes Towage & Salvage.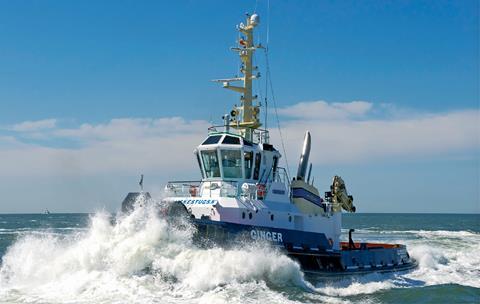 The agreement, signed recently in Amsterdam between Vicente Boluda Ceballos of Boluda Towage SL and Jim Iskes, owner of Iskes Towage & Salvage covers Iskes' port towage activities in Eemshaven, Lubeck and Lisbon as well as its offshore activities, together with management and staff at Iskes' IJmuiden head office.
The transaction sees Iskes remaining a separate entity of Boluda with its local management team headed by managing director Ronald Vergouwen and former owner Jim Iskes remaining as strategic advisor. Iskes will focus on strengthening and further expanding Boluda's offshore activities in northwest Europe 'with a close watch on the Baltic market, Kiel Channel and Poland.'
Boluda chairman Vicente Boluda Fos said they have 'been long friends of Iskes' while Jim Iskes states: 'We are very happy to join the Boluda Group because it is also a family-owned company, with short direct lines and a similar spirit. We could not be more pleased with this combined organisation and asset portfolio. Although we find ourselves in exceptionally challenging times at this very moment, we are committed to consolidate Boluda's future prospects, to continue strengthening Boluda's position as European tugboat market leader, and to open up new opportunities with our innovative attitude.'
Vicente Boluda Fos, Boluda chairman commented: 'We have been long friends of Iskes and we value their entrepreneurial spirit and pioneering vision. This is why we are very pleased that they wanted to become part of our Group.' Boluda has previously experienced synergies with Iskes with the latter's tug Ginger assisting in Boluda's operations in the port of London.
This is the second item of related news in a year for Iskes when in December 2019 Svitzer announced its takeover of Port Towage Amsterdam in a deal that included nine Iskes tugs and more than 30 staff joining Svitzer's European fleet.
Boluda is following a similar policy of expansion within Europe with completion of its acquisition of Kotug Smit Towage in August 2019. The merger of Boskalis-owned Smit and Kotug International's harbour towage divisions was in itself a relatively short-lived alliance having been completed in April 2016 increasingly making Svitzer and Boluda the dominant powers in at least the European harbour towage scene.
By Peter Barker