Royal Boskalis Westminster N.V. has signed a letter of intent to acquire the offshore activities of VolkerWessels. Under the intended transaction, Boskalis will acquire the maritime and offshore wind energy related activities of VolkerWessels which includes VBMS, Stemat and Volker Stevin International.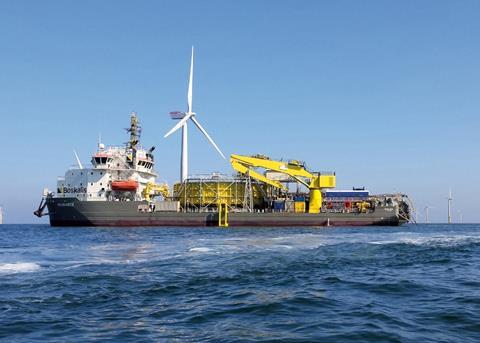 Boskalis and VolkerWessels have been working together successfully for years in the offshore wind energy market. VBMS, a 50/50 Boskalis - VolkerWessels joint venture, is the European market leader in the field of offshore cable installation with a strong market position and well-filled order book. As a consequence of this transaction, Boskalis will acquire the remaining 50% share in VBMS.
Stemat has a global offering of specialized vessels including a cable laying vessel and multi-purpose vessels. VSI is specialised in the construction of offshore foundations and maritime constructions. Last year Boskalis and VSI in a joint venture acquired two large offshore wind park projects, Wikinger and Veja Mate. As a consequence of this transaction, Boskalis will now execute these two projects on a 100% basis.
The current annual revenue, excluding the two offshore wind park projects, amounts to approximately €200 million. This agreement will bring the Boskalis order book to more than €600 million, of which more than EUR 200 million is attributable to the two offshore wind park projects that are currently being executed. It is the intention that this transaction will be completed in the near future.
Peter Berdowski, the CEO of Boskalis commented, "For many years we have been working closely and constructively with VolkerWessels and this acquisition is a logical and desirable step for our strategy aimed at strengthening our offshore service proposition."
By Dag Pike