The Dutch Directorate General for Public Works and Water Management (Rijkswaterstaat) has awarded a contract for the reinforcement of the Houtrib Dyke in Holland to a joint venture between two major dredging companies, Boskalis and Van Oord.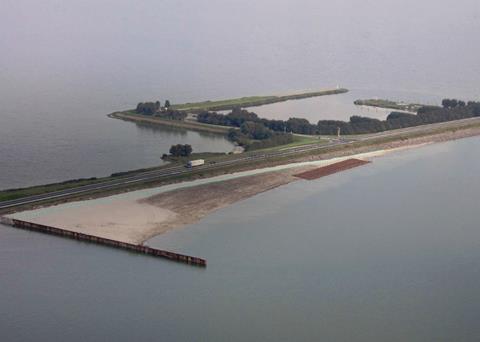 The contract is reported to be valued at €90 million with this amount shared equally between the two partners.
The Houtrib Dyke is located between Enkhuizen and Lelystad and protects large parts of the country from flooding. During storms, the dyke is designed to prevent water from the IJsselmeer Lake flooding into the Markermeer Lake. Like several of the major dykes in Holland this one does not meet the current government safety standards. Work on building this dyke was started in 1963 and it was completed 12 years later and it was originally the intention to reclaim the area to the south of the dyke but this reclamation project has been abandoned.
For the reinforcement work this will take place on both sides of the dyke by adding sand and rock along the 25 km length of the dyke. The work will start in 2017 and continue through to 2020 and it is part the Dutch Flood Protection Program, an alliance of Rijkswaterstaat and all district water boards aimed at reinforcing primary dykes in a more innovative and robust solution.
Experimental work has been carried out on sections of this dyke to see if adding more sand at the base of the dyke can provide added protection. The plan was to create 'beaches' where waves could break before they would attack the dyke itself. This beach solution will form part of the new work on the dyke. In 2014 70,000 cubic metres of sand were deposited along a 450 metre section of the dyke to form a 'beach' and vegetation has been plated to help stabilise the section. This has been carefully monitored over the intervening years.
As part of the Dutch Flood Protection Program, Boskalis is also currently working on a variety of dyke reinforcement projects. These include the reinforcement of the Wadden Sea dyke on Texel, the reinforcement of the Wadden Sea dyke between the towns of Eemshaven and Delfzijl as well as making this dyke earthquake-proof. Another project is the reinforcement of the Markermeer dykes between the towns of Hoorn and Durgerdam.
Like its partner on the Houtrib project, Van Oord is also involved in several reinforcement projects. These include the recently awarded project for work on the dykes around Den Oever, the reinforcement of the dykes at Dordrect Island and the dyke between Hagestein and Opheusden.
By Dag Pike