A shipping major that can lay claim to inventing friction reducing ship bottom air lubrication over one hundred years ago is diving back in.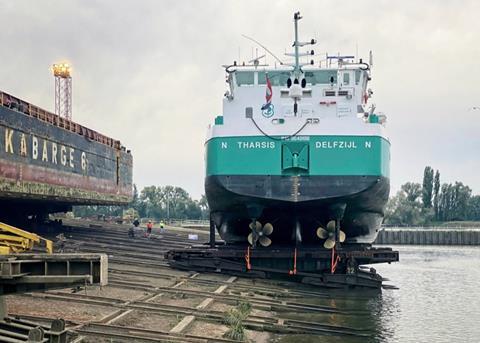 Air lubrication for marine vessels is a developing solution that Rotterdam-based maritime technology company, Alfa Laval says will radically reduce fuel consumption and environmental impact. Having acquired a minority stake in Marine Performance Systems B.V., Alfa Laval will be instrumental in making this long-sought technology a commercial reality.
The idea of using bubbles to reduce a vessel's friction – which is the largest driver of fuel consumption as it moves through the water – has existed for well over a century. Nonetheless, it has taken time to realize. Alfa Laval has chosen to invest in Marine Performance Systems, whose unique method of producing bubbles with fluidics is a breakthrough that promises to reduce fuel consumption by 8–12% at a vessel's normal service speed.
"The use of fluidics creates a larger air layer of superior quality," says Frode Lundsteen Hansen, who founded Marine Performance Systems in 2018 with innovators Pieter Kapteijn and Fulko Roos. "Our FluidicAL technology enables truly effective air lubrication, with immediate environmental benefits and substantial savings for shipowners. Alfa Laval shares our belief that this technology will facilitate the transition to green shipping."
"The investment brings Alfa Laval full circle, since air lubrication technology for marine vessels was first pursued and patented by our founder Gustav de Laval in 1883," says Sameer Kalra, President, Alfa Laval Marine Division. "The technology did not result in any product in his time, but our founder's vision has new importance today. Air lubrication will smooth the marine industry's path to a sustainable future."
The high performance of FluidicAL technology and its ability to operate in various conditions have already been demonstrated at full scale. In late 2020, a pilot installation was made on the general cargo vessel M/V Tharsis, with excellent results and clear savings over months of operation.
By Jake Frith