The French port of Brest out on the West Coast is developing a new site in the port to be a base for the expected development of renewable energy projects in the sea areas adjacent to the port.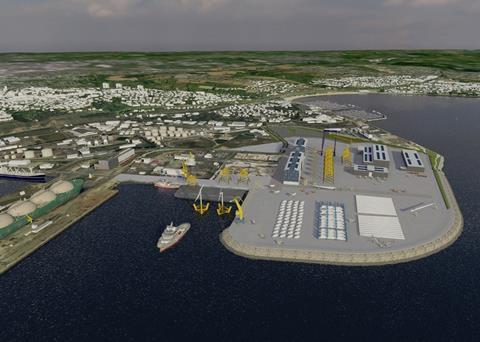 The aim is to make the port the premier location for the assembly of equipment and installations for both tidal and wind renewable energy projects in the region.
Part of the site towards the eastern end of the harbour has already been developed for this purpose but now the site is being both extended and strengthened to allow heavy loads to be handled and space to be created for the possible manufacture of renewable structures and components. The location is in the Zone Industrielle Portuaire de Saint-Marc which is close by the ship building and repair centre in the port.
The current site extends to 11 hectares and the expansion will add another 14 hectares to the site. This will be achieved by building a curved polder out from the extremity of the current site into the fairway. This polder will be 860 metres long and the space that will be enclosed will then be filled with dredging spoil obtained from the maintenance dredging of the channel into the port.
The contract for the dredging work has been awarded to the Société de Dragage International and it is estimated that up to 1.25 million cubic metres of spoil will be required for the filling. The dredging work will also deepen the approach channel to allow ships of up to 80,000 tonnes to reach the facility, up from the present 60,000 tonnes.
The construction work on the polder and its quay has been entrusted to the Bouygnes Group. The planned quay on the western side of the polder will be 210 metres long and it will be constructed to be capable of handing loads up to 2000 tonnes. Together with its associated platform it will cover an area of 4 hectares. Completion of the whole project is scheduled for 2020 and the cost is estimated at €220 million which is being funded from a variety of sources.
Brest is well placed as a centre for the renewables industry. It is very close to the Chenal du Four where the tides run very strongly between the mainland and the off-lying Isle d'Ouessant. This channel has been the site for several experimental tidal generating systems and is seen as a major source of tidal energy in the future.
Several wind farms are planned in the area with mainly fixed wind farms located to the north of the Brest Peninsular and floating wind farms in the deeper waters to the west and the south.
By Dag Pike