French dams and bridges inspection specialist, IDCBTP, has chosen a Saab Seaeye Falcon ROV for detailed infrastructure examination.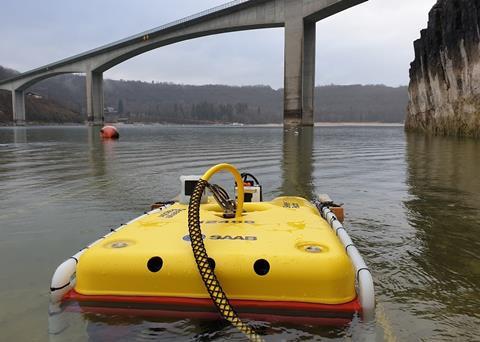 For a clear and accurate analysis of the condition of the structures, IDCBTP's Falcon is fitted with a range of systems including lasers, multibeam sonar, profiler sonar and navigation and positioning systems.
Precision data collected in this way can identify repairs needed, help maintenance planning and spot trends in structure condition.
Two structures under inspection are the bridge supports for the Pont de la Pyle at Lake Vouglans and the upstream face of the dam structure of the Barrage de Thurins at Rhône.
The Falcon is a small, metre-sized, intelligent, powerful, five-thruster-strong, highly manoeuvrable, multi-tasking and easy to use vehicle, depth rated to 1000 metres.
Enhanced with Saab Seaeye's revolutionary iCON™ intelligent control system, the Falcon is a future-flexible package designed to adopt evolving technologies.
Saab Seaeye says that with a reliability record covering thousands of hours of operations globally, working in the most challenging environments, including long tunnel excursions, it can remain stable in turbulent waters and strong currents whilst recording and undertaking delicate tasks.
By Jake Frith