UK propeller and sterngear specialist Bruntons Propellers' long awaited new controllable pitch propeller System made its public debut at this year's METS exhibition in Amsterdam.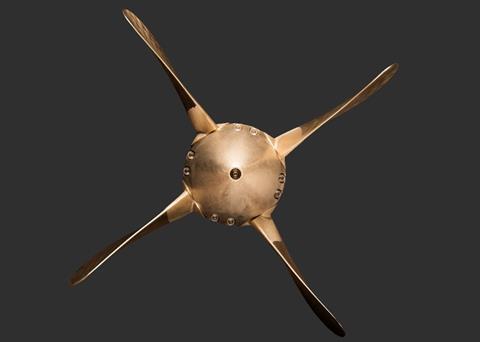 Bruntons has spent several years developing a CPP propeller and its associated equipment which the company says will solve several issues that have affected CPPs since they were first introduced. In addition to manual control, the Bruntons CPP will be available with a fully automatic control system which will enable the vessel operator to switch between a selection of options varying between maximum power and maximum fuel efficiency.
Bruntons engineers identified two areas which could affect the life span of a conventional CPP and its ability to withstand continually changing loads without damage. The two areas are excessive blade wear and high spindle loads. Blade wear on the Bruntons CPP will be dramatically reduced by a new blade retention system and the high spindle loads will be dealt with by the introduction of a twin cam design which Bruntons believe is unique.
The CPP System can be supplied with conventional CPP controls, or with a highly advanced computerised monitoring system which will allow the operator to set it in any one of a number of performance modes. Looking to the future the system is already capable of controlling the CPP propeller on a hybrid or purely electrically driven vessel, not just for propulsion efficiency but for battery use optimisation and the optimisation of electricity regeneration as well.
Virtually any vessel can be fitted with the Bruntons CPP from sailing yachts, where its ability to fully feather, unlike some CPPs, will be much appreciated, to workboats of every type and the most modern of naval vessels. Currently the system can operate with engines up to 2000hp but design work is already underway to produce systems that can handle much higher power outputs.
By Jake Frith