A new bridge over the Brussels-Scheldt Canal in Brussels is getting closer to completion, ready to form a key part of the city's infrastructure.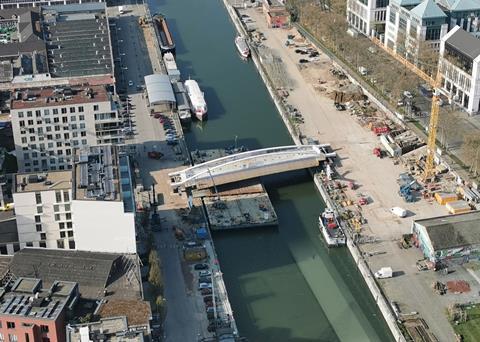 Civil engineering company Jan De Nul installed the central part of the new Suzan Daniel bridge earlier this month. The final bridge piers are now being installed.
A Belgian-made bridge
For the past six months, this 60m-long and 13m-wide bridge section has been assembled on the Quai des Mines, next to the final installation site, and where steel arches and a stainless steel pedestrian section were integrated into the concrete bridge deck.
Aelterman bvba from Ghent, a partner in this project, was responsible for the production of the steel arches, which were delivered by barge in August 2020.
Canal temporarily blocked
The 1,200t bridge section was driven onto a pontoon, after which the pontoon transported the bridge to its installation location near the Vergote dock. There, Jan De Nul carefully installed the bridge on temporary piers. The canal reopened for shipping on 19 April.
The Suzan Daniel bridge will be 120m long in total. In the coming months, Jan De Nul will build the concrete abutments on both sides of the canal and connect them to the central bridge section.
Once completed, the bridge will form an important link for cyclists, pedestrians and public transport between the neighbourhood around the North Station and Tour & Taxis.
By Rebecca Jeffrey