A Bubble barrier that is designed to collect floating waste but allow free passage to boats and ships is being established on the Westerdok Canal in Amsterdam under a three-year pilot scheme writes Dag Pike.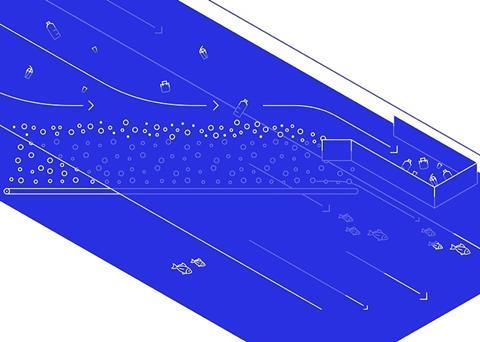 The Bubble Barrier is claimed to be the World's first rubbish barrier made entirely from bubbles and the installation on the Westerdok Canal is being established following a series of smaller scale installations. The aim is to collect the floating waste close to source rather than allow it to drift out into the North Sea.
A Dutch start-up, the Great Bubble Barrier founded by Thomas van Thiel has worked with the Amsterdam municipality and the regional water board to launch this project which is a simple device that channels rubbish, especially small pieces of plastic, to the side of the Westerdok canal where it can be retrieved. Tests have shown it can divert more than 80% of floating debris.
"More than two-thirds of plastics in the ocean comes out of rivers and canals so if you have to intercept it, why not do it in the rivers?" says Philip Ehrhorn, co-inventor of the technology. "You can't put a physical barrier in a canal: it has to be open for wildlife and boats." Ehrhorn, a German naval architect and ocean engineer, got the inspiration from a water treatment plant he saw while studying in Australia in 2015. "At one stage they aerate the water, and on a big surface put air bubbles like a big jacuzzi," he said. "The small plastic pieces that people throw in the toilet all collected in one corner and that was the kind of spark for me. If you can guide plastic to the side, can't you do it in a more directed way and on purpose in a river?"
The bubble barrier is a long, perforated tube with a length of 60 metres that runs diagonally across the bottom of the canal. Compressed air is pumped through the tube and rises upwards from the perforations. Any floating debris encountering the wall of bubbles with then be channelled to the side of the canal by the natural water current. Here it is trapped in a small rubbish enclosure on the side of the canal where it can be collected and disposed of.