ADELTE, the Spanish port and terminal boarding bridge supplier, formerly known as TEAM, has reported that it has completed the installation of two innovative boarding bridges at Cruise Center Steinwerder, Hamburg's third cruise terminal.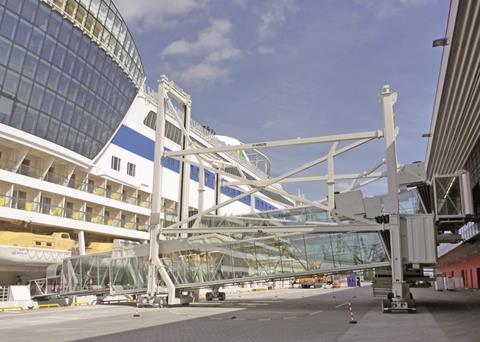 The new terminal is comprised of two separate arrival and departure buildings, both connected to ADELTE's state-of-the-art HYDRA-model bridges which guarantee fast and flexible boarding operations. Designed to accommodate large modern cruise ships, the two custom-designed boarding bridges are equipped with an innovative and patented feature developed by ADELTE's R&D engineering department especially for the Steinwerder Terminal. This innovation consists of a docking cabin telescopic ramp which can be converted into stairs by means of electromechanical actuators, thus allowing access to cruise ship doors below quay level. Thanks to this unique feature, both boarding bridges offer a huge operating range and can dock a wide variety of vessels calling at Hamburg, adapting perfectly to each access door position and to the significant tidal variations of the port.
"The design/build of Cruise Center Steinwerder has been successfully completed in-time to meet agreements with our clients. The two symmetrical boarding bridges designed, manufactured and installed by ADELTE, play an important role in our operations and therefore Cruise Gate Hamburg is very happy with these custom-designed systems, not in the least because of the uniquely designed docking ramps which allows us to service cruise ship doors below quay level" said Sacha Rougier, Managing Director, Cruise Gate Hamburg.
With this project, ADELTE can now claim a total of six of its boarding bridges operating in Hamburg and Kiel.
By Jake Frith