A new range of mobile fuel separation units enables vessels to refuel directly from the bunker supply.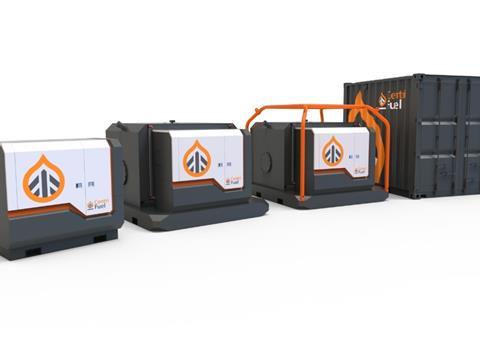 Hydrauvision's CentriFuel technology reduces the risk of shutdowns, limits excessive engine wear and offers direct cost savings on filters. It also separates emulsified water with no additional fuel filters and in accordance with EN590 and MGO.
Elbert van den Brink, division manager rental at Hydrauvision, said: "The separation unit ensures clean diesel on deck. All engines on deck can be easily topped up by using the tank gun and a reel with a 20 metre fuel hose."
Two-tank setup
Available in four models, the separation unit consists of two tanks, one for contaminated diesel and the other for clean diesel. A centrifuge is used to clean the dirty fuel. Solid contaminants are collected in the separator bowl that can be easily cleaned with a specific regularity.
The water flows away into a sludge tank including the bacteria and algae. A level indicator is included for this.
Mr van den Brink explained: "We have identified bottlenecks in the use of diesel engines on deck of, for example, ships, pontoons, barges and floating docks.
"The diesel oil, after all, cannot be used straight from the bunker, but must first be additionally filtered. In addition to the risk of shutdowns, this also leads to considerable costs because the filters have to be regularly replaced."
By Rebecca Jeffrey