A buoy and light installation project has been carried out in the northeast corner of Scotland to help guide vessels and improve safety.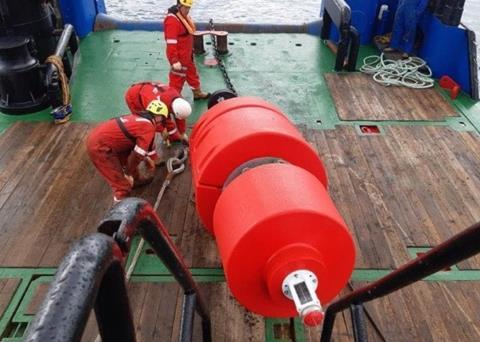 Hydrosphere undertook the 'Wick Project' with Wick Harbour Authority when severe weather broke away a north cardinal mark in Wick Bay. The installation of a new offshore wind farm nearby means many small vessels will use the harbour over the next few years, requiring robust navigational aids in challenging weather conditions.
After a simulation using the Mobilis-developed Calmar Mooring Line Calculation Software, which allows the user to know how much chain to use in different scenarios, Hydrosphere decided to deploy a port hand mark. The Mobilis AQ-1500 was placed in deep water.
"Although it is only 1.2m in diameter, the buoy has a deep buoyancy of about one and a half tonnes — meaning it rides out severe conditions well and is fully capable of surviving the worst Scotland can throw at it," said John Caskey, managing director of Hydrosphere.
"Along with the 55m chain and 2T sinker, the buoy featured a self-contained solar-powered light, as well as a 1m wide polyethylene daymark and radar reflector," he added.
Lights
Hydrosphere also installed three VEGA VLL-43directional lights to modernise the harbour's port closure signals.
The lights offer a daylight viewing distance of up to around two miles and night-time distances of around 10 miles.
These lights are controlled by a Hydrosphere-developed remote monitoring and control system named Hydrowatch.
The system allows customers to turn the traffic lights on and off, as well as monitor the mains power supply, the battery voltage and any other inputs or outputs remotely.
By Rebecca Jeffrey