Following a successful 2016 with a number of new designs being completed for a range of vessels 2017 has continued in the same vein for Scotland-headquartered Seawork exhibitor Macduff Ship Design with continued work on existing projects, new deliveries and some exciting new contracts.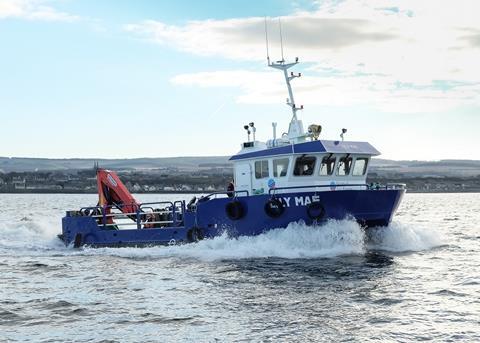 Work has progressed on hull and structural design for a number of projects, with the first steel now being cut for a 12.75m pilot vessel with workboat capabilities for ABP Ayr, three new designs for 19m, 24m and 28m fishing vessel being built at Macduff Shipyards for local owners. Final design drawings have also been completed for Inverlussa's new fish farm workboat and the build is well underway at Havyard Ship Technology in Norway with delivery due in May.
As well as these ongoing projects, 2017 has already seen the delivery of 7 vessels.
The first of these was the Lily Mae - a 15m fish farm workboat built for Scottish Sea Farms. The vessel is now at work providing services and deliveries to the fish farm industry.
At the time of writing, Tor Marine of Tuzla, Turkey is in the process of delivering of 2 x 15m garbage collection vessels and a 15m dive service vessel, all to the port of Jeddah. The vessels are all based on the same hull form but with revisions to the propulsion package and deck layout to suit their operation profile.
Following on from this Tor Marine has also completed 2 x 27m pilot vessels which have undergone sea trials, achieving above contract speed and sea keeping performance. These vessels are now in transit to their owners with final handover expected in early March. They have also launched 3 x 19m pilot vessels which are due for trials in the next month.
The final delivery of the year to date is the 24m fishing vessel Steadfast Hope to local Scottish owners. The vessel is a repeat of the successful vessel Rebecca, with some minor modifications to the internal layout to suit owners requirements.
Macduff Ship Design is also pleased to announce that it has won several new design contracts and is looking forward to working with new and old customers on these projects.
The first of these contracts is for the design of a 16m harbour tug / workboat for Shoreham port. This vessel is to be based on the successful series of vessels built for John McLoughlin and son shipping but with changes to the main characteristics to suit the particular dimensions of Shoreham's lock gates.
Macduff can also announce a continuation of its long standing working relationship with Inverlussa Marine Services which has ordered a near repeat to the vessel currently being built at Havyard Ship Technology. This vessel will feature a lengthened section to provide additional deck space for salmon treatment operations.
After several months of work with Shipbuilding Asia (shipbuilding and project management company) and Canadian vessel owners, Macduff is delighted to be able to announce that it has won the initial design phase for a new under 90 foot fishing vessel for Newfoundland owners. Macduff Ship Design is working closely with all parties and this ground-breaking new design will soon be in production.
Finally, MSD is pleased to continue its strong relationship with Macduff Shipyards with the signing of a new 19m trawler. This vessel is to a repeat design of a vessel currently in build at the shipyard's facilities in Buckie.
Visit MacDuff Ship Design at Seawork International 2016 on stand PY111.