As the UK gradually emerges from winter we look back at activities that have kept the country's northern towage fleet busy.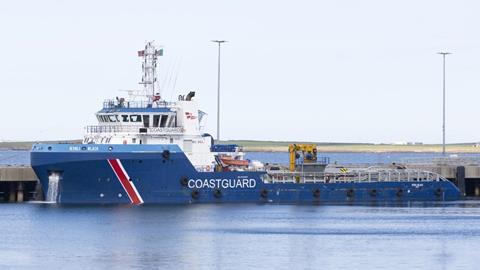 When in September 2011 UK government ended its arrangement for provision of four emergency towing vessels (ETVs), strong local opposition resulted in retention of the Stornoway-based ETV, the case strengthened by the hostile winter weather experienced around the UK's northern coastline and the region's natural beauty including being a wildlife haven.
The Italian owned and flagged Ievoli Black is currently chartered by the Maritime and Coastguard Agency (MCA) and during a particularly stormy weekend in late October 2020 was tasked to stand by a large cargo vessel with engine failure north west of the Shetland Isles. The tug was stood down the following day when the ship regained power and continued its voyage.
The same storm led to a vessel losing containers in the Pentland Firth with 33 confirmed as lost overboard, two of which washed ashore in Orkney. Ievoli Black acted as guard ship in the area before being relieved by Northern Lighthouse Board's vessel Pharos.
The MCA's ETV is not the only tug available for emergencies in the region of course and the October storm saw Orkney Islands Council's two new tugs Odin of Scapa and Thor of Scapa deployed when a cargo vessel dragged its anchor in 60 knot winds in Scapa Flow. Two drilling rigs and an accommodation platform were also in the anchorage and it was reported that within an hour both tugs had a line on the vessel and with assistance from Orcades Marine and a local pilot were able to hold the ship in position and halt its drift.
Towards the end of the year Odin of Scapa and Thor of Scapa assisted a bulk carrier which suffered engine problems off Orkney. The vessel was escorted to an anchorage in the sheltered waters of Scapa Flow where locally arranged assistance helped resolve the vessel's engine problem.
Moving on to February 2021 four unnamed local tugs assisted a moored vessel in bad weather conditions at Hunterston Terminal in Ayrshire. Also at Hunterston, HM Coastguard was dealing with a Mayday message from a drillship drifting without power. All the above incidents reinforce the importance of adequate emergency towage provision in the region.
By Peter Barker