Reports from Tsavliris Salvage illustrate the importance of professional salvors rendering services that may not make the headlines but quietly avoid situations which otherwise certainly would.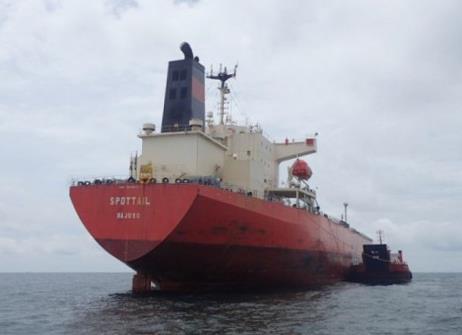 There are just five incidents in the update but a total deadweight tonnage of 556,6120t for the vessels illustrates the size of those involved, and the potential environmental threats averted.
The first call for assistance saw Tsavliris' salvage tug Tsavliris Hellas (121tbp) sail from its salvage station in the Azores to assist the laden tanker Elka Glory immobilised due to stern tube leakage around 1,000 miles west of Ponta Delgada. Escort services were initially provided as the vessel headed towards the UK but in bad weather conditions a towage connection was established after the leak deteriorated. Several days later a change of plan saw the destination change to Gibraltar for a ship-to-ship transfer operation. Tsavliris provided standby and towage services at Gibraltar and once the tanker's cargo had been removed Tsavliris Hellas towed the vessel to Setubal for repairs, arriving one month after the initial call.
Following a collision while discharging palm oil at Chittagong anchorage, stern tube damage similarly caused the tanker Kirstin to seek standby and towage assistance during lightering/discharging. The 80tbp AHT Ning Hai Tuo 6001 initially stood-by but due to strong currents and adverse weather was joined by the 203tbp AHT Terasea Hawk which subsequently towed Kirstin to Singapore for repairs completing a 40-day operation.
The 310,137dwt laden VLCC Armada Ulysses was employed as a bunker storage vessel off Malaysia when an internal leakage resulted in fuel oil escaping from cargo to double bottom tanks. Tsavliris was contracted to provide salvage assistance and a five-man team from Greece, the Netherlands and Singapore was assembled. After part of the cargo was transferred to another tanker, oil from its damaged tanks was transferred internally on the vessel. Armada Ulysses then sailed to Singapore where salvage equipment was loaded on board and following a dive inspection the vessel moved to Raffles reserve anchorage for tank cleaning and repairs.
The salvage tug Salvage Titan (ex Smit New York) was called into action when the fully-laden bulk carrier Minoan Courage suffered machinery failure in bad weather in the South China Sea. Power was partially restored on the vessel and Salvage Titan provided escort services and after power was fully restored salvage services were terminated.
Finally, when the tanker Spottail ran aground in ballast condition on the north coast of Pulau Takong Besar, Indonesia Tsavliris despatched personnel, equipment and two tugs to assist. A dive inspection and stability calculations established that the vessel could be refloated by transferring fuel oil within the ship's own internal tanks and with assistance of the tugs the vessel was refloated just seven days after grounding.
By Peter Barker