Trials have shown that AIS Manuplas has developed a robust seal for difficult conditions.
C-Ling® from Seawork exhibitor AIS Manuplas is a cable corrosion protection solution for the offshore wind industry.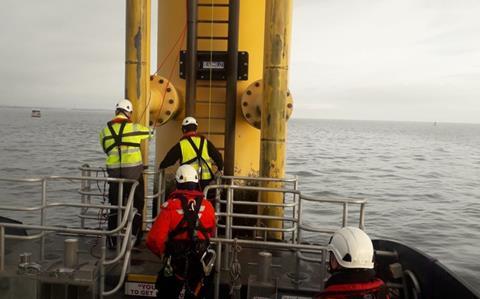 The system recently completed an extensive 20-month trial at Blyth in Northumberland, demonstrating a robust seal in dynamic offshore conditions. Based at the Anemometry Hub, a team from AIS conducted a full-scale C-Ling® system technical demonstration.
EDF Renewables established the £5m Blyth Offshore Demonstrator windfarm project for a trial period of three years to monitor the largest operational wind turbines.
With a total generating capacity of 41.5MW, the turbines produce enough low carbon electricity to power around 34,000 homes. Each wind turbine is supported with a unique 15,000t gravity-base foundation, transported by floating, making this type of structure cheaper and more efficient to install.
Remote monitoring
The AIS Manuplas team installed a video camera, along with pressure and temperature sensors, enabling live data to be streamed via microwave to the AIS network: a system that allows C-Ling® seal performance to be monitored live, from anywhere in the world. Fourteen months of data were gathered, testing C-Ling® performance in tough physical conditions in rough seas driven by cold northeast winds, and enduring two severe winter storms offshore.
At the end of the trial the system was stripped down to assess the susceptibility of C-Ling® to attack from marine growth and microbiological activity. Whilst significant hard and soft-shell marine growth was visible, the hydrophilic C-Ling® material showed no sign of attack, with the seal still withstanding pressure differentials up to 0.8 bar.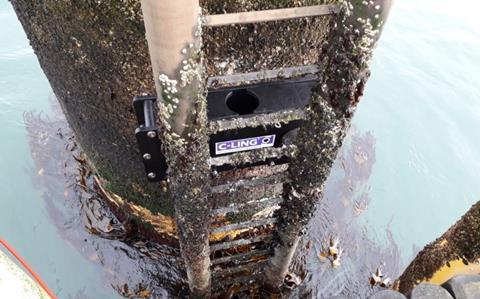 Following the successful demonstration, a spokesperson from AIS Renewables said, "We are pleased to have successfully demonstrated our solution to achieve TRL7 and are grateful to the ORE Catapult for the opportunity. We will now move to a retrofit deployment on a live offshore wind turbine before rolling out the solution across the full field."
AIS details
AIS is a global leader in the engineering, manufacture and application of insulation and passive fire protection systems, as well as buoyancy and SURF (subsea, umbilicals, risers and flowlines) products. The company's advanced materials deliver mission-critical solutions for the energy, industrial, automotive, chemical and marine sectors.
AIS holds more than 100 patents and invests up to 10% of its revenue in research and development every year so it can bring new products to market that provide better solutions to customers' challenges.
AIS acquired Manuplas in 2014, the latter a well-established company in the field of marine impact protection and fendering.
Visit AIS Manuplas at Seawork International 2022 on stand C23.