Futuristically styled and engineered carbon fibre tourist vessel, 'Vision of The Fjords', has won the Ship of the Year 2016 award at SMM in Hamburg.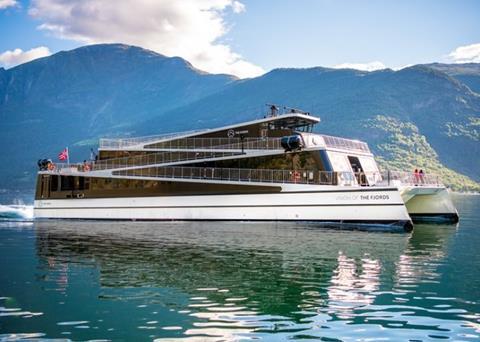 The 40m, 399-passenger capacity hybrid craft, which was completed by Brødrene Aa this summer, scooped the award for its unique approach to sustainable, sensitive and high quality operations in the UNESCO World Heritage Listed Nærøyfjord. The award ceremony took place in the Norwegian pavilion at SMM 2016.
Vision of The Fjords looks, and operates, like nothing else on the water. Designed with lines that resemble the zigzagging mountain paths of the Western Norwegian fjords it traverses, it allows passengers to climb over the vessel as they watch the mountains rise from the water. Those who prefer to view from inside can enjoy breath-taking views in lounges wrapped by sweeping panoramic windows.
The passenger experience is accentuated by technology that, as The Fjords CEO Rolf A. Sandvik explained, was painstakingly selected to set new environmental standards for the pristine habitat it operates within: "We, and our owners Fjord1 and Flåm AS, are absolutely committed to a long-term strategy that safeguards the spellbinding nature of Nærøyfjord and its surrounding waterways," he said.
The judges for Ship of the Year, which is run by Norwegian maritime publication Skipsrevyen, were won over by Brødrene Aa's bold design, but also by the vessel's high-tech features, such as its innovative propulsion system. This is based on a combination of two 749kW MAN main engines and two 150kW Oswald electric motors, with ABB's On-board DC Grid system managing and controlling the power between the diesel engines, propeller and charging station.
The parallel hybrid driveline was developed and constructed by the Norwegian marine drive system supplier MANCRAFT AS. "As a basis for our innovative driveline, we've selected a solid, tried-and-tested product – a diesel engine from MAN Engines," stated owner and managing director Oyvind Alvern, who has been working exclusively with the engine manufacturer from Nuremberg for nearly 20 years.
It's a configuration capable of delivering a speed of 19.5 knots, slowing down to a leisurely 8 knots to allow passengers to immerse themselves in the UNESCO-listed beauty that surrounds them.
By Jake Frith