A concrete additive from an Australian company that enhances compressive strength and other key characteristics is finding many uses in and around the Port of Savannah, Georgia, USA.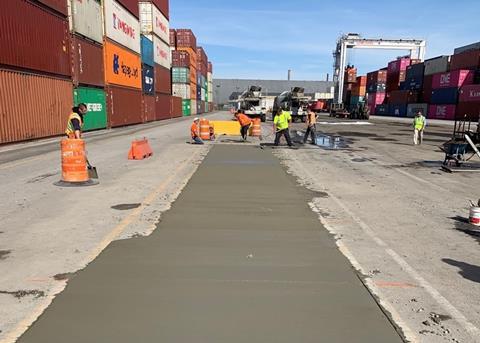 Following successful trials in early 2020, the Georgia Port Authority (GPA) has now specified the use of EdenCrete in three smaller repair projects at the Port of Savannah. Further, Eden is nearing completion of the development with other companies of a number of specialised EdenCrete enhanced concrete mixes for port, marine and coastal applications.
EdenCrete is Eden's 100% owned, proprietary carbon-strengthened concrete additive that enhances a wide range of performance characteristics of the concrete including compressive strength, flexural strength, tensile strength, abrasion resistance, reduced permeability, increased modulus of elasticity, and reduced shrinkage, delivering stronger, tougher, more durable and longer lasting concrete.
Additionally, in applications where fresh concrete has to be pumped under pressure, it is claimed to greatly reduces the friction enabling the required pumping pressure to be reduced, resulting in less wear on the pumps, and safer working conditions due to reduced nozzle pressure being required, which in turn results in cost savings through less wasted concrete resulting from reduced re-bound in the case of shotcrete applications.
EdenCrete is claimed to offer additional advantages in areas of high wear and in marine and coastal environments.
By Jake Frith