The various offshore transmission developments underway in northern European waters, primarily related to wind farms, have led to the recent announcement of new onshore cable storage carousels on both the Northeast and South coasts of the UK.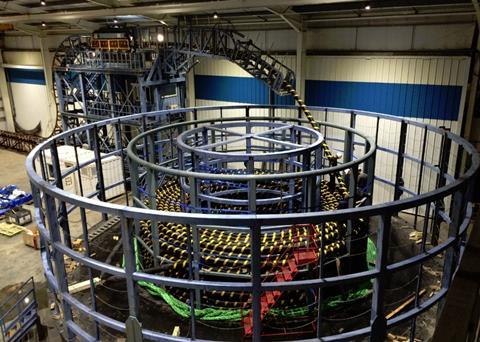 HVDC and fibre optic cables represent a huge outlay for developers, and require careful handling and storage, often away from direct sunlight. In recent years the proliferation of projects requiring such cabling has revealed a lack of the necessary, specific onshore storage and handling facilities.
Global Marine Systems Limited has recently extended its capabilities at its depot at Portland on the south coast of England. Following the installation of a power cable carousel, the company now has the ability to store and manage power cable for owners and operators requiring a strategically placed location to home their most valuable of assets.
The Company said one OFTO (Offshore Transmission Owner) client is already utilising the facility's new capability. The purpose-built secured storage facility offers the ideal environment for the long-term protection of these valuable assets, in particular from Ultra Violet (UV) degradation and large temperature fluctuations, both key criteria for helping to ensure future trouble-free deployment. The facility has been providing fibre optic cable storage for 18 years, and in addition to the new power cable carousels, contains 33 telecoms cable tanks, with a total capacity of 8,750 m3. The site currently stores 2,000km of telecoms cable for a multitude of customers, along with over 3,500 universal joint kits and associated equipment including repeaters, equalisers and branching units.
The site was built to specification and is geared to mobilise with ease between power and fibre optic cabling. The 2,000 tonne cable carousel is equipped with a 10 tonne tensioner and works alongside a 15 tonne quayside tensioner to ensure effective cable handling from vessel to shore, and back.
Portland Port is able to welcome a wide variety of vessels in its deep waters and large dock estate. Berthing right alongside the covered cable storage facility ensures cable handling can be kept to a minimum, reducing any risk of damage through movement and extending the lifespan of the assets. This, alongside favourable road access, provides the perfect platform for efficient cable storage and operations.
The facility is manned by qualified personnel and experienced cable engineers and also completes cable testing as customers require, offering assurance to owners ahead of retrieving the cable from storage for use on installation and maintenance operations.
Meanwhile Ecosse Subsea Systems (ESS) has been awarded a £3 million contract by an international infrastructure group to design and build a 1500-ton carousel and associated spread which will be located at a so far undisclosed "strategic north east port" for fast deployment should the need arise.
The carousel will be used for the storage of spare cables required for UK offshore windfarm projects.
The carousel will have the capability to be upgraded to 2000 tons and will be designed by ESS engineers at their Banchory headquarters and partially manufactured at subsidiary firm Masfab in County Durham.
ESS has built up expertise in the construction and use of carousels which are used for specialist subsea projects and this deal follows the acquisition by Bibby Offshore Limited of an 800-ton ESS carousel which had earlier been deployed by a major utility company on a UK windfarm construction project.
Mo Petrie, ESS operations director, said: "This will be the second storage carousel we have built but over the last few years we have developed our expertise in the design and construction of large carousels traditionally used in seabed operations.
"The carousel will be designed so that the capacity can be upgraded to store additional cables on demand. The contract also includes provision for operating the carousel on behalf of the client and the training of their personnel.
"The client is a major player in large-scale infrastructure projects and is active on a number of UK offshore wind projects, which dovetails with our own diversification in to the renewables sector.
"Our design and engineering experience is being used not only in asset building for major renewables projects like this, but elsewhere in the supply chain where we are prominent in providing seabed preparation and route clearance services in the early stages of offshore windfarm construction."
Keith McDermott, ESS commercial director, added: "Demand from clients to buy equipment has increased substantially because we build it from the perspective of asset owners. In addition to this latest carousel, we have built five others and own four SCAR trenching systems."
ESS were recently awarded a subsea trenching contract by leading European offshore specialist JD-Contractor A/S for the Kriegers Flak windfarm offshore Denmark.
The Aberdeenshire company has just completed a £5 million seabed clearance project on behalf of DONG Energy on the Race Bank Offshore Windfarm located off the Norfolk coast and is currently engaged in route clearance and trenching projects on behalf of Prysmian Group on the 70-turbine Wikinger offshore wind farm in the Baltic Sea.
By Jake Frith