Leading towage and salvage specialist Multraship, through its subsidiary Novatug BV, has commissioned the construction of two Robert Allan designed Carrousel Rave Tugs (CRTs) from Damen Shipyards Group.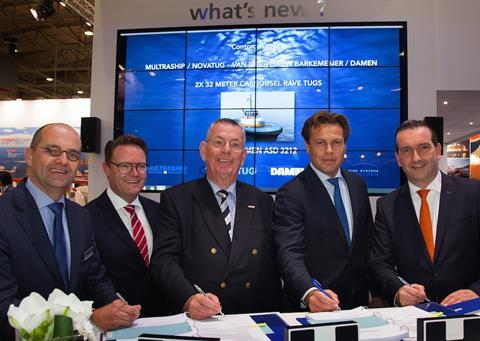 These new vessels will provide tug operators with more power, more freedom and more durability, as well as eliminating the risk of capsizing under a tow load.
According to a Novatug representative MJ spoke to at Europort 2015, where this deal was announced, the carrousel system makes it impossible to capsize the tug as the pull is effectively always aligned in an upward direction on the tug's gunwhale. The innovative CRT concept has been around for a while, but this order suggests it could be taking off significantly.
Multraship has also agreed a deal with Damen for a new state-of-the-art ASD 3212 tug as part of its planned fleet expansion.
The hulls of the vessels will be built by German shipyard Theodor Buschmann GmbH in Hamburg, with final outfitting carried out by Damen Maaskant Shipyards in Stellendam, the Netherlands.
We'll be reporting on this important deal in more detail in Tugs & Towing in December.
By Jake Frith