The new Interceptor range of RIBs which is being developed by UK-based manufacturer Carson RIBs will be based on a new hull concept that is claimed to offer exceptional performance. The moulds for the new designs are currently being built at the new Probond facility located at Buckie in Northern Scotland with the prototype scheduled for launch by the end of the year.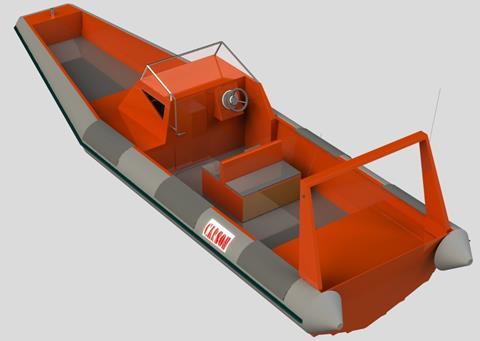 The hull design of this 9.50 metre long RIB is one of the most complex ever seen on a RIB and it features a fine wave piercing entry combined with a multi-stepped deep vee hull. Developed by the experienced Barry Carson, this new design is claimed to offer exceptional sea keeping with the fine entry reducing the pitching in head seas and with the stepped hull offering increased efficiency matched to the cushioning effect of the 24° deadrise of the hull.
An innovative feature of this hull design is that it will be one of the first stepped hull designs to be developed where water jet propulsion can be used. Normally with water jet propulsion the aeration caused by the steps in the hull reduces the efficiency of the jet but on this new Carson hull the steps are located well forward to reduce this effect.
This ability to accommodate water jet propulsion will be used on the prototype to install an innovative propulsion system for a RIB of this size. Three 300 hp diesel engines will be installed, two aft and the centre engine forward. This centre engine will be coupled to a water jet and this can be used on its own for low speed propulsion to give the RIB a loitering speed of up to 10 knots.
The two wing diesels will be coupled to surface drives which when combined with the thrust from the water jet will give the RIB a high top speed. It is likely that the steering will only be fitted to the water jet which will reduce the complication and increase the efficiency. With this configuration it will be possible for the RIB to have a range exceeding 1000 miles and this is likely to open up new possibilities for operating the RIB in a wide variety of roles.
The deck layout features a central helm console and there is the possibility of incorporating basic accommodation below decks including cooking and toilet facilities. With this combination the RIB can stay at sea for up to 48 hours on extended cruising or patrol which will make it suitable for a wide variety of monitoring roles or for contractors' duties as well as wind farm applications.
The new Probond construction yard at Buckie features a large building shed and a storage yard with close access to water launching in the harbour. It is planned to develop three versions of this new design, 7.50 and 8.50 metres in addition to the 9.50 metre prototype.
By Dag Pike