New applicator friendly cartridge-based dispensing technologies for applying protective coating products made from solid epoxies and urethanes have almost 100% efficiency.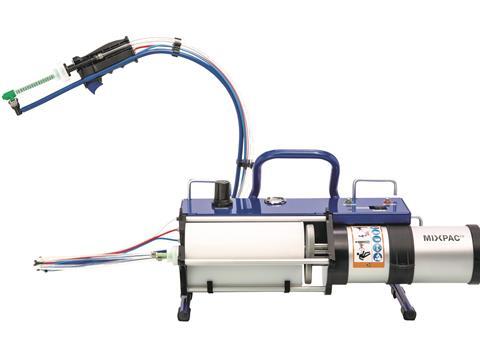 These technologies, which have followed the move from protective coating products containing solvents to epoxies and urethanes due to environmental concerns, are so efficient because they effectively reduce labour, waste, and disposal costs, stated Rob Rochette, account manager at Sulzer Mixpac.
"With almost 100 percent efficiency and hardly any liquid waste, the technology is especially appropriate for smaller quantity applications, like grooming, touchups, repairs, stripe coatings, and field joint coating," said Mr Rochette.
Smaller applications
While traditional application methods are still relevant, for smaller quantity and small packaging applications, like touch up coating/repair, and pipeline applications, cartridge-based systems can save time and money.
A recent in-depth coatings cost analysis study Sulzer conducted in an American shipyard compared standard protective coating practices with three products in its MIXPAC MixCoat cartridge-based 2-component dispensing system family, where paint is packaged in pre-loaded and pre-proportioned mix ratio cartridges.
It showed that switching to a cartridge-based system would eliminate the hand mixing process and cut human error, while significantly reducing Non-Compliance Reports (NCRs) and Corrective Action Reports (CARs).
Size matters
Coating kit sizes often do not accurately reflect the project size, and Sulzer estimates that nearly 40% of coatings used for maintenance, repair and touch-up are wasted, resulting in expensive disposal and environmental fees. In addition to this, manual coating mixing is more time consuming than using a cartridge system where, set up and clean up time is minimal.
Using a closed loop cartridge-based system means material is contained until it is dispensed, limiting exposure to fumes and solvents, preventing introduction of contaminants into the paint, and reducing the likelihood of spills. Solvent use is also limited as no solvent is needed for thinning
Efficiency is further apparent when coating areas with limited accessibility as the lightweight and mobile cartridge system allows for maximum flexibility.
The shipyard evaluation determined significant cost savings using the cartridge system for painting, as well as with a reduction in wasted paint, application of uncured paint and not having to deal with hazardous waste
Cartridge-based packaging ultimately improves efficiency in niche markets in the aerospace industry, marine touch up coating and repair, pipeline, and manhole applications, found Sulzer.