Caterpillar Marine has reported on collaboration for the next generation of tugs in the US and provided further details of its first Advanced Variable Drive tug built in Turkey.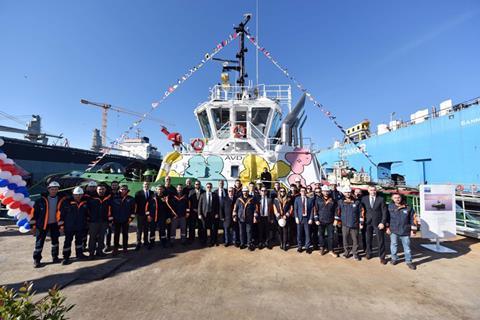 Caterpillar Marine has announced a collaboration with Brusco Tug & Barge involving a Cat marine solutions package for two newbuilding RAL RAmparts 2500 tugs built by Diversified Marine Inc.
The 84 short ton bollard pull tugs are powered by US EPA Tier 4 Final certified Cat 3516E main engines developing 2,240kW at 1,800rpm supported by Cat C7.1 gensets of 118ekW each and MTA 627 azimuth thrusters with 2.7m diameter propellers. The full system package from Caterpillar Marine is expected to produce "a class-leading tug".
Enrique Aponte, Caterpillar Marine territory sales manager for the US west coast says: "This vessel will change the escort tug industry, as currently, no other tug in service has the dynamic thrust and force that Caterpillar is providing in such a small footprint as this tug. With the world's fleet needs, this tug will be able to manoeuvre between vessels and piers with its substantially decreased turning radius."
Last month's delivery round-up reported on Boğaçay XXXVIII, Sanmar's 200th delivery to a Robert Allan Ltd design featuring the first example of Caterpillar Marine's Advanced Variable Drive (AVD) technology and with the tug's naming Caterpillar has provided technical details of the AVD system.
The vessel has Caterpillar 3512 main engines, a C32 auxiliary engine and Cat MTA 627 fixed-pitch thrusters and bridge controls, the AVD integrated propulsion system optimises engine and system operation independently of propeller speed, supplementing power hydraulically with "significant fuel cost savings".
Three different modes of operation are provided involving the push of a button, transit mode operates with main engines powered off and unclutched, propulsion sourced hydraulically via an auxiliary engine providing a maximum speed above 9kn. In work mode, propulsion is provided hydromechanically allowing the most efficient combination of engine and hydraulic systems and a bollard pull of up to 60t. In boost mode the auxiliary engine provides additional hydraulic power through the AVD system and a bollard pull of 70t or over 13kn maximum speed.
Caterpillar state that the improved response manoeuvrability and positioning along with a lower noise profile represents the next step in optimised performance and efficiency.
By Peter Barker