Installation works have begun on a new impressed current cathodic protection on a jetty at Rainham on the River Thames.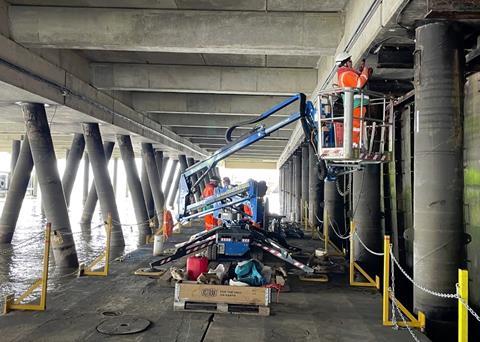 Wet civil engineering firm, Land & Water's jetty at Rainham is a facility that aims to unlock future supply chains into London, harnessing the River Thames as a sustainable transport system by reducing the number of diesel fueled heavy trucks that deliver commodities into the capital.
The sustainable hub at Rainham is situated at Land & Water's Habitat Creation Scheme which uses redundant, non-hazardous materials to create landforms along the East London Corridor to increase biodiversity. Until 2042, the firm will be operating 152 hectares of silt lagoons, resulting in over six million tonnes of wet and dry spoil material being repurposed and 1,000,000m2 of valuable habitat being created.
Andy McBride, Contracts Manager at Land & Water, said: "The installation of this ICCP system and the removal of the old redundant system will safeguard our jetty against corrosion for the next 20 years.
Recently Land & Water has been working on the Thames Tideway Tunnel project to transport and unload materials from the new 'super sewer' tunnel to its jetty at Rainham. From the west section alone, this project has contributed over 450,000 tonnes of material to Rainham encouraging greater areas of greenery along the Thames corridor.
By Jake Frith