Caterpillar Marine has unveiled a new hybrid thruster concept which it claims can offer dramatic savings in cost of ownership for operators. The company has announced that the first Cat Marine Hybrid Thruster system will be delivered to an undisclosed shipyard in Singapore and will be commissioned this year.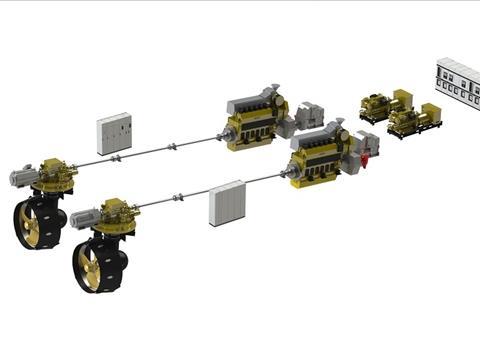 This new propulsion setup is claimed to outperform a straight diesel mechanical drive system in all partial load conditions and offers improved fuel economy and substantial through-life savings for a variety of offshore support vessels. Caterpillar claims that for vessels spending long periods of time in standby or DP (dynamic positioning) service, the annual fuel savings by adopting this hybrid system could be as high as 35% calculated across the entire operating profile of the vessel.
These claimed performance achievements are the result of Caterpillar's holistic approach to optimizing vessel operations and reduced total cost of ownership for owners. Typically, the Cat Marine Hybrid Thruster system would enable an operator to downsize the power of a vessel's main engine so that engine load is optimised, while also allowing the vessel to switch to diesel electric mode for low DP operations or when operating in stand-by mode.
For example, a standard 7000hp standby support vessel featuring conventional powering would require two MaK 8 M25 C main engines with each producing 2666kW at 750 rpm plus a pair of Cat C18 powered generators. With the new Cat Hybrid Thruster system the same vessel could instead use smaller 6 M 25 C main engines each producing 2000kW with extra power provided by two booster electric motors mounted on the back of the Cat azimuth thrusters. These booster electric motors would be powered from two Cat C32 generator sets. The booster motors and drives are controlled directly from the Caterpillar MPC 800A control system which also performs all mode selections, interfaces with the vessel's PMS and provides a single point interface for the operator.
Caterpillar Marine believes that the Cat Marine Hybrid Thruster represents a significant new market contender, either for retrofit or for installation at the new build stage. In transit operations and in diesel-mechanical mode, the smaller engines run at higher loads, consuming less fuel. In low-speed transit, either one or two gensets can power the main azimuth thruster in diesel-electric mode giving typical fuel savings of 10-15% at speeds in the 7-9 knots range, depending on hull profile. However, the biggest savings are made during standby and DP operations where the vessel would operate in diesel electric mode with the main azimuth propellers running in the most efficient variable speed mode. By fitting the thrusters with CP propellers the efficiency of the thruster propulsion can be optimised for the speed and power requirements.
By Dag Pike