UK defence and research company QinetiQ has announced the reopening of its newly upgraded cavitation tunnel to both military and commercial customers.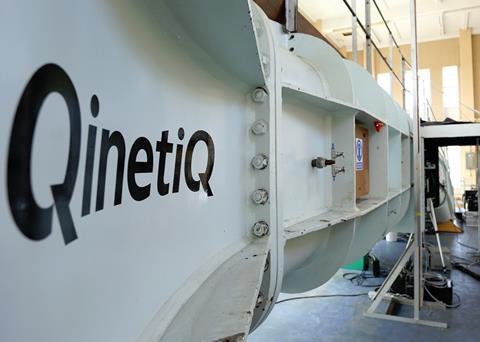 The historic propulsion testing facility is the larger of only two operational cavitation tunnels in the UK. The reopening completes QinetiQ's International Maritime Consultancy and Software (IMCS) testing capability, which combines state-of-the-art physical and virtual hydrodynamic testing with naval architectural advice and QinetiQ's advanced ship design software, Paramarine.
The facilities include Europe's largest hydrodynamic testing tank, used to test ship and submarine seakeeping and manoeuvring, and a 270-metre long towing tank, used to test ship and submarine resistance and propulsion.
Samantha Hill, Test and Evaluation Business Manager for International Maritime Consultancy and Software at QinetiQ, said: "We have reopened our cavitation tunnel in response to a demand from our customers to provide a comprehensive set of test and evaluation facilities all under one secure roof. Furthermore, regulatory and economic factors have driven a need for quieter and more efficient ships."
Cavitation is the formation and collapse of bubbles around a moving fast-moving component in the water, leading to vibration, erosion and decreased efficiency. Before a specific propeller design is cleared for production, it needs to be tested in model scale in the cavitation tunnel either on its own or behind the aft model of the ship.
Cavitation around a poorly designed propeller can damage a ship, increase fuel bills, and generate noise and vibration that disturbs marine life and causes discomfort for passengers and crew. Physical testing is an indispensable tool to observe and measure cavitation and to reduce its effects. Coupled with our strong computational fluid dynamics capability, QinetiQ can provide a full propeller optimisation service.
"The reintroduction of the cavitation tunnel further provides the final piece in our naval architecture consultancy service, which enables customers to design vessels and test them for seakeeping, manoeuvring and propulsion in a single secure location," Hill concluded.
Housed inside a three-story listed building at QinetiQ's Haslar site in Portsmouth, the Haslar tunnel contains 180 tons of water, circulated by an impeller to speeds of up to eight metres-per-second. The testing section measures 5.35m in length by 2.4m width and 1.2m in height allowing it to accommodate models of up to five metres in length.
By Jake Frith