According to Roy Yap of ShipParts.com the promise of certified, 3D-printed parts that could be used "hot off the oven" may be realised sooner than you'd think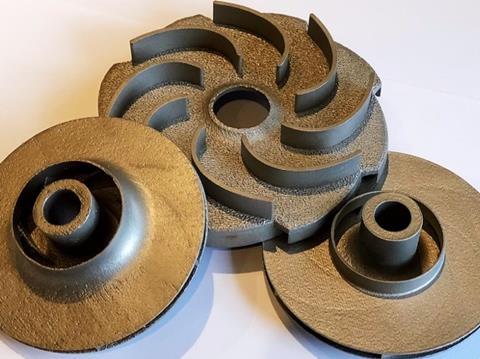 The online marine supply company is helping push the research forward: it's collaborating on a project with Singapore's Additive Manufacturing Innovation Centre (part of Nanyang Polytechnic) and class society ABS.
Investigations are focusing on an SLM280 Selective Laser Melting device. This approach applies twin laser beams to powdered metal, fusing it together at specific points; complex forms can therefore be shaped from variety of materials including corrosion-resistant SS316L stainless steel.
The project will initially develop printing procedures and carry out tensile, chemical and microstructure tests of the printing medium against ABS rules and standards governing weld and material strength. The second phase will see the creation of a complete pump impeller - the design criteria coming via ShipPart's manufacturing partners - and lastly, the impeller's performance will be evaluated while incorporated in standard equipment.
One key aspect is to optimise parameters "so that post-machining is minimised" said Yap; for impellers, rough surfaces are a factor in hydraulic flow and friction loss.
However, the project's focus isn't efficiency alone: warranty is also an issue for future commercial viability. To allow support by the original maker, a printed version has to show itself to be a complete match for its conventional mass-produced counterpart "in dimensions, tolerances, finishing, physical and chemical composition" said Yap.
Therefore the ABS qualification "will form the bedrock for future certification of critical components for marine use", he explained. Moreover, it should allow the industry to begin to get comfortable with the idea.
Take up is not that far into the future, he predicted. While these first initiatives may be constrained by current systems, he expects a "technology leap" by 2022, prompted by widespread interest and investment in the AM industry. This will see the printing of larger, more complex parts in a variety of metals "including more reactive materials such as aluminium and copper", he concluded.
Once the project is completed in January 2021, ShipParts.com will promote the commercialisation of the technology to provide 3D printed parts to end users on their platform with manufacturing and ABS certification.
By Stevie Knight