Southbay Civil Engineering Limited together with Red7Marine, recently completed the construction of two mooring dolphins on behalf of ABLE UK at its Seaton Port facility.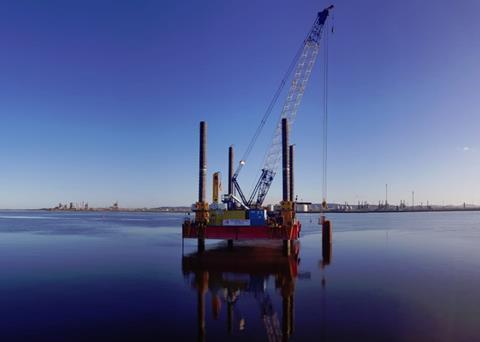 ABLE Seaton Port is located on the North East Coast close to the mouth of the River Tees. It is capable of handling all types of offshore construction vessels, with quayside facilities which have been constructed to suit the requirements of the heavy fabrication industry.
Southbay Civil Engineering was responsible for the construction of two new mooring dolphins, with the project commencing in October 2020. The mooring dolphins were constructed from Red7Marine's 400t jack-up barge, the Haven Seaseven. Each dolphin consisted of six 1420mm diameter tubular piles which were installed from a piling gate mounted to the side of the barge. The piling gate was fabricated in-house at Red7Marine's quayside facility in the Port of Ipswich. Further works included the installation of precast units and FRC works to construct the deck. Each structure includes associated berthing facilities in the form of fenders, ladders, bollards and handrails.
The project was delivered throughout the winter months, facing challenging weather conditions and in accordance with a demanding programme to ensure minimal disruption to planned vessel movements. This involved progressing works across both day and night shifts. Significant pre-planning was required throughout the project to ensure materials were safely transported within a live operational environment. This involved transporting materials using a flat barge and supporting tug vessel.
Three of Red7's Trainee Barge Masters were involved with the project from its inception, working day and night shifts rotationally and moving the barge to various locations to support the project and its timeline.
By Jake Frith