The International Salvage Union is reporting that Les Abeilles has had its French emergency towing vessel (ETV) contract renewed including provision of powerful replacements for two existing ETVs.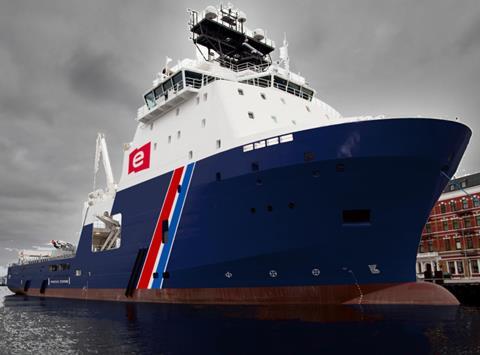 Les Abeilles' contract renewal with Marine Nationale (French Navy) follow a three year tender process for consultancy and services in the field of intervention, assistance and sea rescue including the chartering of two Remorquage d'Intervention, d'assistance et de sauvetage (RIAS) tugs for a 10 year period with a budget of €120 million, Les Abeilles stating: 'it confirms the excellence of its human, technical and financial know-how acquired over the past 40 years.'
Along with most European coastal states, France has kept faith with state-sponsored emergency towing intervention including for when commercial assistance may not be immediately available. Memories of the stranding and subsequent pollution from the tanker Amoco Cadiz on the Brittany coast in 1978 remain in France and the dedicated tugs Abeille Bourbon and Abeille Liberte provide ETV cover in the Western Approaches with Abeille Flandre and Abeille Languedoc covering the Mediterranean and Dover Strait respectively.
Of note is provision of two RIAS tugs complete with four trained and experienced crews to replace Abeille Languedoc and Abeille Flandre. The tugs in question are ex Siem Offshore AHTS vessels Siem Diamond and Siem Garnet previously operating in the offshore industry and two of a five vessel series built by Kleven Verft between 2009 and 2011. Approximate comparison between the replacement and former vessels respectively indicates a significant increase in capabilities, figures including: 7,474gt vs 1,585gt, 91m LOA vs 63m LOA, 19,300kW vs 8,800kW and 280tbp vs 160tbp.
Diamond and Garnet also take a step forward in efficiency standards with energy consumption optimised from their hybrid mechanical-electric propulsion and the pair meet DNV Clean Design certification. They are now listed as Diamond and Garnet under Les Abeilles ownership and re-registered from Kristiansand to Le Havre. Les Abeilles has published an artist's representation of the new colour scheme although there is no news of any permanent renaming.
Pascal Potrel, Les Abeilles MD said: "We are very proud to have won this contract after a difficult competition and in the presence of quality offers. The final award confirms our historical expertise in the world of towing and rescue on the high seas."
By Peter Barker