Isle of Wight catamaran builders, Cheetah Marine has delivered its latest 11.2m vessel to Yaroslavl in Russia.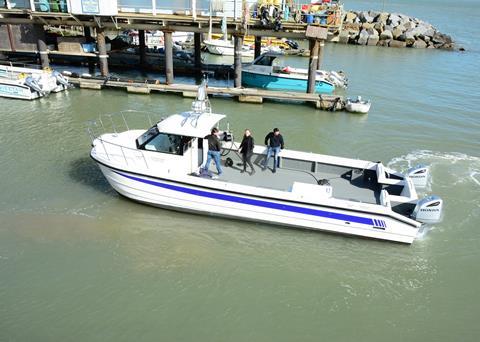 Wild North has a hull of 11.2m with the shortest wheelhouse available. It has a large work area for a safe and stable work platform, highlighting the strong earning capacity for the vessel.
"We have established export market to Ukraine and Georgia, previously for hydrographic survey catamaran," said Sean Strevens, Cheetah designer.
He added: "This delivery demonstrates that Cheetahs are well received in all aspects of the workboat market."
Wild North will operate within the Russian River system transporting cargos, in particularly fresh fish, in the Yaroslavl Oblast region.
It is powered by twin 250hp Honda outboards producing top speeds of 40 knots and cruising speeds of 22 knots at two litres per mile.
Twin 500l tanks provide a range of 250m based on the NMEA data provided during sea trials from Ventnor haven.
The catamaran features a short 1.2m, full width style wheelhouse, maximising outside deck space to over 24m2.
Visit Cheetah Marine at Seawork International 2016 on stand VA32.
By Alice Mason