The independent and confidential CHIRP maritime incident reporting system has focused on tug safety issues including problems handling heavy tow lines.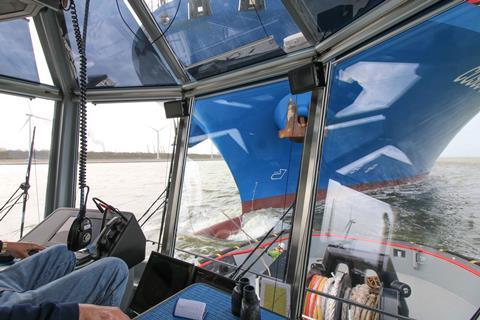 Personnel on a container ship raised the issue of handling heavy tow lines through a panama lead and onto bollards preferred by the pilot and tug which are remote and not accessible from any of the ship's mooring winches; the line's size and weight make it impossible to take in by hand
The person reporting the issue stated that pilots and tugs (at a specific port) are "extremely reluctant to make the tugs fast at the vessel's mooring stations fore and aft, where the mooring winches could be used to lift the tug's line." This particular ship's solution was to use a small portable gasoline-powered winch originally used in the forestry industry which in practice is unable to safely hoist the tug's line.
Another problem is where the eye splice has chafing rope in place making it inflexible and difficult to be squeezed through the panama chock increasing tension on the messenger line occasionally requiring a crew member to lean outboard to feed the line through, an obviously unsafe measure.
The reporter also suggests regulation should govern the maximum size and weight of a tug line a ship's crew has to manhandle adding that if large tug lines continue to be used, they should only be used where there is suitable mechanical lifting capacity.
It is recognised that ships built with panama fairleads and mooring bits in remote locations not serviced by mooring machinery is a design issue to address that would naturally take time for the owner, equally trying to change the size and arrangement of the tug's lines is not in the vessel's immediate control
CHIRP suggests a formal risk assessment carried out on board should be forwarded to the company who in turn could communicate with the port adding "risk assessments carried out on board are your friend." It also suggests the panama lead could be sealed up prior to arrival at the specific port and could also be marked "not for harbour towage".
While lighter tug lines are available CHIRP board members recognise that the reporter's company has no direct control over the tug operators.