Chris Livett, of Thames vessel operators Livetts, puts his business and financial survival down to being "part marine entrepreneur, part Thames chameleon", but there's also a good streak of humanitarian in there as well.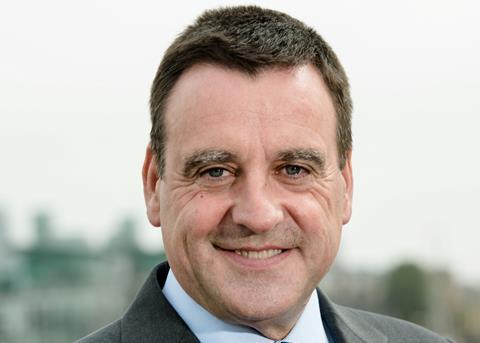 A fifth-generation waterman, he "left school on the Friday and went to sea on a tramp ship on the Monday," apprenticed for five years to his father. However, he was back on the Thames "working on all sorts of everything" before getting his own bright idea to become a floating dustman... buying a small workboat and offering rubbish collections.
The boat – Hooligan - had a hand in romance too: he was giving it a lick of paint when he saw "a vision of beauty walking down the quay with a coffee and a Mars Bar", the daughter of another Thames passenger boat business. The combination of chocolate, coffee and attraction resulted in a partnership that's worked for over 30 years both in and out of the office.
Despite this, the knack of staying afloat "not just through three recessions but also interest rate peaks" has meant keeping an unsentimental eye on the shifting potential of London's main waterway.
Therefore when his father's original tug and barge trade looked like sinking, he turned his attention to leisure boats; major civil engineering works like the Blackfriars reconstruction and now the Thames Tideway project has pumped energy into the 'Bennetts Barges' and aggregates interests arm of the group – and there's also a marina.
However, this misses one vital point: his commitment to helping the PLA, the Coastguard Agency and others raise the bar on training and safety standards. For him, the defining 48 hours were those following the Marchioness tragedy: he was carrying out salvage operations while the bodies were being brought up. "There are some scenes that live with you forever," he admitted, and added: "We make new recruits read the reports. Complacency is the mother of all bugger-ups."
He explained the Blackfriars extension involved 50 people on twenty-four hour, seven days a week pontoon barge and boat operations that had to consider three historic bridges, live train lines, wires, roads and walkways "and a fibreoptic cable which kept the London Stock exchange alive". Still, he pointed out, this resulted "in precisely zero incidents". How? "Because we rehearsed every single move and had a wash-up meeting afterward... like theatre, it's got to be a tight performance."
Business can also take a stranger-than-fiction turn: recent PR, TV and film interests all want an iconic moment on the Thames and Livetts now has a media support capability (ably lead by his son Edward) that's been involved in everything from putting up the Olympic rings on Tower Bridge to 'The Long Good Friday' and the Bond 'Spectre' and 'Criminals' chase scenes plus tipping – and retrieving – more than one car from a bridge.
Luckily, this gives him the opportunity to have fun: the next adventure should see Chris Livett in a hundred-knot plus water chase on a craft that itself looks like something from Star Wars.
By Stevie Knight