The Rt Hon Anne-Marie Trevelyan MP, UK Minister for Energy, Clean Growth and Climate Change, and David Duguid MP, UK Government Minister for Scotland, visited the European Marine Energy Centre (EMEC) in Orkney in August to see the developments taking place in ocean energy.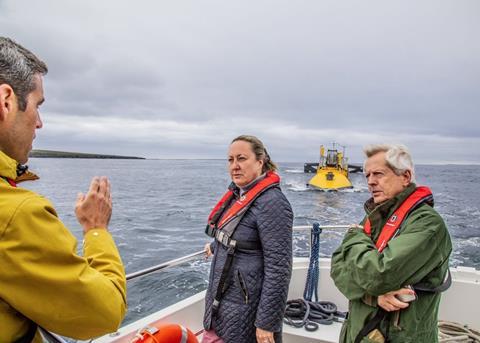 The Ministers were met by Neil Kermode, EMEC's Managing Director, Richard Graham MP, Chair of the All-Party Parliamentary Group for Marine Energy, and various UK Marine Energy Council (MEC) members prior to heading out to sea to visit EMEC's Fall of Warness tidal test site. Discussions centred around the marine energy sector and the UK's potential to develop a world leading industry which will contribute to green recovery and the UK Government's overarching net zero 2050 target.
During the tour, Minister Anne-Marie Trevelyan and Minister David Duguid witnessed tidal turbines by Orbital Marine Power and Magallanes Renovables in action at EMEC's test site.
By Jake Frith