The US Coast Guard's Polar Security Cutter is being built for arctic conditions, but that has an impact on the deck equipment, Francis Wong of MacGregor told MJ.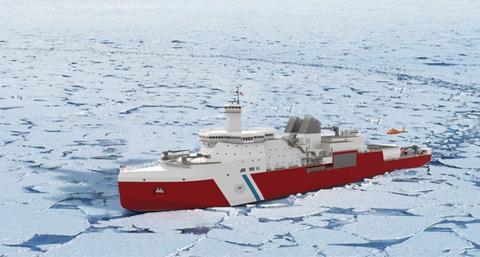 The scope of supply is comprehensive - and "mission critical" he explained: the contract, (through design and construction bid winner VT Halter Marine), has to be suitable for what the USCG calls 'heavy polar' operations as these vessels are to replacement its existing icebreaking fleet.
Therefore, the package is defined for conditions reaching -40°C. It includes two 75kW anchor windlasses, a 45kW, 35t line-pull towing winch and six mooring capstans, plus a pair of offshore cranes with a 20.4t lift at 13.7m outreach, a couple of auxiliaries and a 6t overhead unit for the hangar. There's also an oceanographic winch with room for 10,000m of cable.
It's worth adding that in these environs the roller doors for hangar, OTH boat, staging bay and stores elevator – all part of the scope of supply - could be considered just as important.
"With the equipment located on the exposed weather deck, we have to select materials to suit this extremely low-temperature environment," Wong explained: for example, high-tensile steels which have cold fracture resistance.
However, it's not only about survivability; the kit also has to remain fully functional. Therefore there are also heaters for the oil, electrical motors and gearboxes. Additional features include protective covers and insulating layers around cables and piping, plus thoughtful points such as ice-scrapers on the cylinders.
So, why would a US build choose a company with a Singapore HQ? Admittedly, Halter Marine is owned by Singapore Technologies (ST) Engineering, but experience does count, said Wong: MacGregor (part of Cargotec) has previously supplied packages for extreme conditions, even those as low as -62C.
There may well be more orders in the pipeline. While this initial delivery is expected for 2021, there are also two further options for a second cutter in 2025, and a third vessel in late 2027.
By Stevie Knight