Three companies working together to reduce carbon footprint have had their endeavours rewarded with a Boat Builder award for the "Collaborative Solution between Boat or Superyacht Builder and its Supply Chain Partner".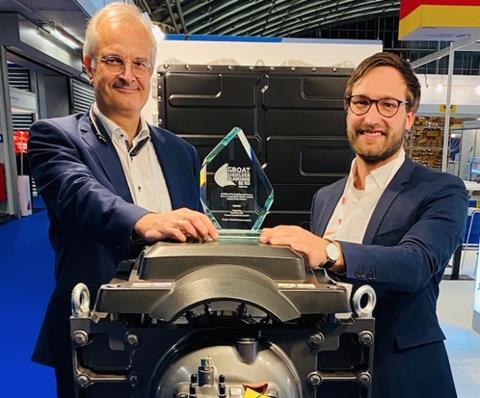 The collaborative solution sees Torqeedo and ZF bring the first installation of Torqeedo and ZF's new Deep Blue 50 kW saildrives to life in an Excess 15 catamaran. This project is part of a global Groupe Beneteau strategy, currently undertaking hybrid and fully electric engine projects across a wide variety of brands and boats in efforts to further reduce the brand's carbon footprint.
The prestigious award recognises boat builders and supply chain partners that have collaborated from a conceptual stage to develop a particular solution to a design challenge, innovation or efficiency improvement.
"From the beginning, there was quite a good strategic fit between both companies," said Massimiliano Cotterchio, head of sales and marketing for ZF Padova. "Torqeedo brought in a wide experience on the electrical side and, combined with our mechanical experience and 20 years of market experience in saildrives led to a very successful product."
When Excess came on board, the first application was defined and the business of designing the perfect system was underway. The partnership has enjoyed the full support of all three companies' engineering, production and product management teams. The yacht has been extensively tested and continues to be optimised almost daily – the Excess 15 is very much a living laboratory, a model of a collaborative solution, and a glimpse of more to come.
"This is the first step," said Thibaut de Montvalon, Excess Brand Director. "The plan is to develop a full range of solutions depending on the size of the boat, for different models with Torqeedo engines and equipment."
Aboard the Excess 15 with Deep Blue Hybrid, owners enjoy all onboard luxuries without the noise and fumes of a running generator. The bluewater sailing configuration consists of twin Deep Blue 50 kW electric saildrives developed in cooperation with ZF, two Deep Blue high-capacity lithium-ion batteries, and a full power management system for managing onboard energy generation and distribution.
Once at sea, owners will appreciate the abundance of power available. Deep Blue's energy management system keeps you constantly informed of how much power is being consumed and generated by each system component, which naturally encourages more sustainable behavior onboard.
When the system detects that the yacht is sailing in good winds, Deep Blue automatically engages the drives and uses the spinning propellers to charge the high-voltage battery bank. The energy generated is used for much more than just propulsion. The system includes a DC-DC converter to keep a 12V battery bank for hotel loads fully charged and a DC-AC inverter for larger loads like the air conditioning and watermaker. On the yacht's first long test sail, the hydrogeneration system easily provided enough electricity to power one hundred per cent of the onboard hotel loads at a cruising speed of seven to eight knots.
The yacht can also be recharged via shore power and the system is completed by two diesel range extenders for backup power in case of extended bad weather or when long-distance motoring is required.
"We are proud to work with industry leaders like Excess Catamarans and ZF," said Dr Ralf Plieninger, managing director of Torqeedo. "We could not ask for more professional or visionary partners to help drive the future of the marine industry."