The 133-year-old Hammersmith Bridge in west London is considered at risk of ''catastrophic failure'' and has now been closed to river traffic, as well as to pedestrians and road traffic, meaning loss of work for commercial boat operators and limited access to upriver boat yards.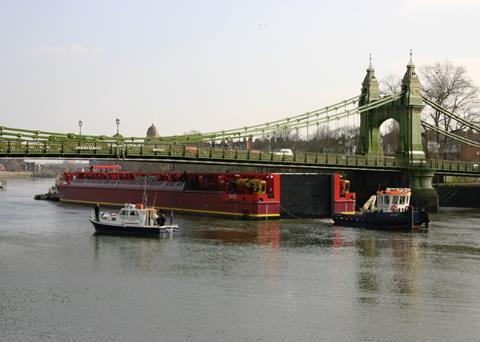 A notice to Mariners posted by the Port of London Authority (PLA) says that: 'Due to urgent safety concerns, Hammersmith & Fulham Council have closed Hammersmith Bridge to river traffic following expert technical advice. LBHF have confirmed that there is significant risk to vessels and persons passing underneath the bridge. We regrettably advise navigation underneath Hammersmith Bridge is not permitted and an exclusion zone of 15 metres upriver and downriver of the bridge has been established. Arches closed to navigation will be marked in accordance with the Port of London Authority Thames Byelaws 2012'. A PLA spokesman said "This is not a question of being over-cautious but a matter of pressing urgency".
The PLA refers all inquiries to the local authority, London Borough of H&FC (LBHF), which is wholly responsible for the bridge and is looking at all options to repair the structure but cannot put any time frame on its reopening.
This cast iron suspension bridge is the only one of its kind in the UK, and one of only two in the world. It was designed and built by the noted civil engineer, Sir Joseph Bazalgette and opened in 1887. It was closed to motor traffic in April 2019 when fractures were discovered in the cast iron pedestals. The leader of LBHF, Steven Cowan, said at the time "A structural integrity review of all aspects of the bridge's suspension structure, which began in 2015 was the first such review in decades."
The bridge had been badly maintained for many years and paying for its repair and refurbishment has become a political issue involving central and local government and Transport for London. The PLA, which is the statutory authority for the waterway, is responsible for the safety of river users and has issued the current closure. Commercial boat operators have objected to the blanket closure, particularly when there have been a couple of 'emergency transits', to allow private boats to return to their upriver moorings. Due to cast iron's sensitivity to extreme temperatures, these transits during the recent heatwaves have taken place in cool evening or early morning tides, for an hour or two in each direction.
One commercial fleet operator complains about the lack of communication from the PLA, saying "The PLA has shut the door on us, referring us back to LBHF, who have no jurisdiction over the water. They should have informed the commercial boys when the bridge was opened for transits of private boats. In any emergency we are always ready to help out and we contribute more to the costs of the river than private boats."
There are two multicast operating as guard boats above and below the bridge operated by CPBS, whose director, Scott Neicho, is one of the few people pleased to have found work in these straitened times. He points out that RNLI lifeboats need access from their Chiswick station, LFB fireboats have been upriver for maintenance, and Mr Neicho needs to take his party boats upriver for annual maintenance during the off season. He says the iron structure will also be at risk when winter temperatures fall below 5 degrees. Any solution to the problems appears to be a long way off.
By Graeme Ewens