Continuing communication is required for sustainable safety improvements with Crew Transfer Vessels (CTVs), an offshore wind safety forum has concluded.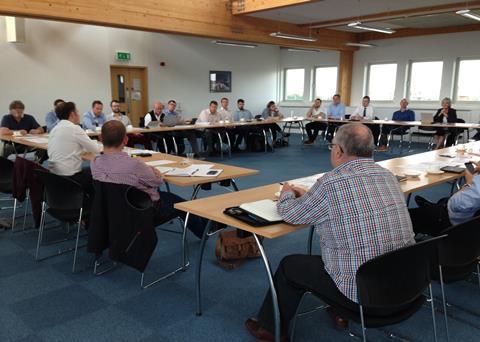 Managing working hours, risk assessment and a collaborative approach to safety were discussed at the first joint Offshore Wind Safety Forum, hosted by the National Workboat Association (NWA).
Mark Ranson, secretary at the NWA, explained that despite concerns, coordination of safety issues has improved in recent years: "We all realise it's a challenging environment to work in. We recognise there is better communication between vessel coordinators and operators."
Multiple stakeholders
The forum, held in Suffolk, UK, brought together crew transfer vessel operators & managers, wind farm operators and representatives from companies active in the industry.
Attendees examined the risk assessment methodology for CTV Technician transfer operations, proposed by the IMCA working group that looks at the Technician Step to Work interface. The main objective was to ensure the process being used is correct.
Mr Ranson stressed that decisions will need to be made based on environmental conditions onsite. He said that whilst there is a blanket policy that technicians should be hooked on to structures at all times for instance, there are plainly some occasions when they shouldn't be.
Shift staggering
Technology advances have helped advance safety both in safe transfer of technicians and their comfort travelling to and from the wind farm, he added.
Shift staggering was suggested by the NWA as a way of allieviating congestion in ports, while the suggestion of additional crew members to help the master share out duty and rest time at sea, was acknowledged as a way of offering more flexibility to keep the vessel out for extra time if needed, whilst still meeting the working hours requirements.
Attendees also looked at revisions to the G+ Small vessel service guide. Mr Ranson said the aim of the consultation was to better reflect what wind developers and CDT operators wanted in the guide, but feedback on guide sharing so far indicated that better communication is needed between wind developers and their own onsite teams.
Collaboration will vary
He concluded that collaboration inevitably varies between projects, especially depending on whether a wind farm is in the construction phase when there is much more activity with different stakeholders involved, or in the O&M phase when it is just being maintained.
Mr Ranson confirmed that going forward, the NWA's focus would be on "helping operators to improve communications where we can."
By Rebecca Jeffrey