Japanese diesel engine manufacturer Yanmar has announced the introduction of its new common-rail commercial marine engine, the 6AYEM to Europe.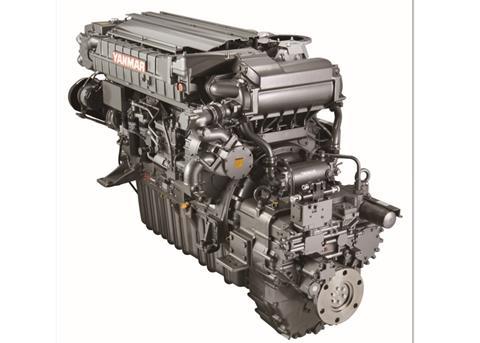 The new engine is an addition to Yanmar's range, sitting alongside the mechanical equivalents, the 6AYM and 12AYM. The adoption of common rail technology increases the choice available to customers who are looking for a cleaner engine, which complies with existing IMO/EPA/CCNR emissions limits and offers the capability of meeting future environmental requirements, including IMO Tier III and EPA Tier 4.
Output ratings are available from 485kW continuous to 749kW maximum, at 1840 to 2000 rpm.
Yanmar says that the common-rail design, in conjunction with the carefully-matched turbocharger and charge air cooler, offers low exhaust emissions, reduced fuel and lubricating oil consumption, and low noise levels. It also boasts compact dimensions for a commercially rated engine – 2000mm long, 1306mm wide and 1531mm high, and dry weight (engine only) of 2418kg. For applications where space is particularly limited, a shallow oil pan version is available, with overall height reduced to 1431mm.
With this being a commercial engine, maintanence has also been a serious consideration with inspection ports readily accessible, and individual cylinder heads allowing pistons to be lifted with the engine in place.
Thanks to the common-rail fuel system, and innovative design of combustion chamber and injectors, Yanmar claims the 6AYEM offers ultra-reliable starting performance and an absence of both black and white smoke, and the multi stage fuel injection system is said to reduce noise at idle.
The engine uses Silicard cylinder liners to reduce lubricating oil consumption and contribute to durability.
By Jake Frith