Coastal shipping is benefiting from focused development on clean running, thanks to a cross-industry Japanese innovation hub and a large streak of pragmatism.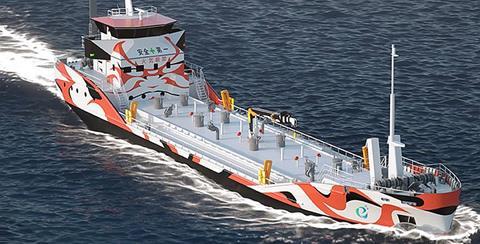 The fact is, the country is soon going to run into problems. Not only are its several thousand coastal ships ageing, so are its (cabotage-protected) Japanese crews, Exeno Yamamizu (EY) Corporation senior architect Yasumasa Suetsugu told MJ.
Therefore, the e5 Labs collaborative venture brings together EY, Asahi Tanker, Mitsubishi, MOL and others to target clean, green and low-to-no emission coasters while also allowing alternative manning patterns, all at a competitive price.
First up is a 60m, fully electric bunker tanker, with big twin batteries and two permanent magnet motor generators running a pair of fully azimuthing thrusters and bow unit. This yields just over a 10kn pace and a 100nm range given an overnight charge from a shoreside connection, sufficient for the Tokyo Bay market or similar.
However, as the price is around 50% to 80% more than a typical ship, e5 has also developed two 'stepping-stone' general coaster hybrids of about 70m and 80m long that will cost just 5% over their traditional counterparts when released in 2022.
The #1.0 ROBOSHIP designs give owners the opportunity of investing in current low emission technology but with a flexible pathway forward to zero. So, rather than being fully electric, these have enough battery power for clean running close to the coast or in harbour. While retaining the PM motors and other efficiency-related elements, the battery is a little smaller and is connected to three gensets, granting the vessels the same range as traditional vessels. However, the DC grid is configured to allow for swapping out for fuel cells (or other low-environmental burden technologies) in future.
Further, it incorporates a transferrable, intelligent 'package' that can be dropped into other designs. The ROBOSHIP BOX brings together telecommunications, the Internet of Things (IoT), and innovative AI. The idea is to be able to run with either lower numbers or more generalised crew, having both maintenance and real time navigation support from onboard software and remote shoreside centres connected by 4G/5G networks.
Overall, the idea is that by lowering the investment bar and providing an easy to integrate digital solution, e5's offerings will help accelerate innovation.
by Stevie Knight