Damen Shipyards recently took advantage of a unique opportunity to deliver a five-vessel order to three separate customers in Canada.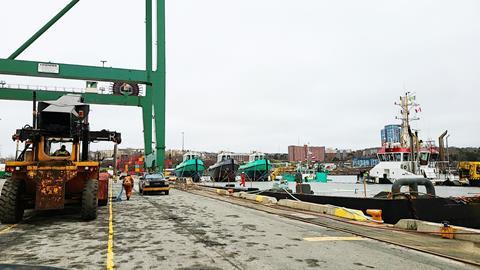 Transporting tugs piggy-back on heavylift vessels from the builder to their eventual destination is not new and Damen recently adapted this model when five vessels were required by Canadian clients involving a newbuild pontoon carrying three Stan Tugs, towed by a former Damen Marine Services' (DMS) chartered Shoalbuster.
The story began with Ontario-based Doornekamp Construction's contract with Damen for a Shoalbuster 3209. The 2013-built tug formerly part of DMS's charter fleet was renamed Amy Lynn D with the requirement to be delivered to Canada, the sale was however just the beginning of a larger delivery project.
Shortly after this initial deal Doornekamp placed a follow-up order for a Stan Pontoon 7524 so it made sense for Amy Lynn D to tow the barge to their new home in Canada. Before setting out however, with the assistance of ACL Shipbrokers, Damen secured an order for three Stan Tug 1205s for two customers also in Canada, the foundations were now there for a cost-effective means of delivery for all five vessels, the three Stan Tugs loaded on the barge.
The only access to the St Lawrence Seaway was via Montreal locks which closed annually between Christmas and April so with time of the essence another Shoalbuster was chartered from Van Wijngaarden Marine Services to tow the barge loaded with the Stan Tugs to Algeciras to meet up with Amy Lynn D. Finally, after a voyage of 4,700NM the first two Stan Tugs were delivered to client Dominion in Halifax, and the second to Montreal all before Christmas. Amy Lynn D and barge passed through the locks in the direction of Picton, Ontario for Doornekamp Construction just one week before Christmas.
Damen sales manager Juriaan Daams described the operation as: 'An interesting process and one that demonstrates the synergy within the Damen Shipyards Group... applying the synergy within our organisation we were able to get everything done in-house.' The commercial process was assisted by Damen Trading with the barge docked at Keppel Verolme in Rotterdam and the Shoalbuster at Albwardy Damen in Sharjah while the Stan Tugs were at Damen Shipyard Hardinxveld around 20km inland from Rotterdam.
By Peter Barker