DLM and AMBA Dockside have announced their new joint venture product the Twist lock Load Cell and Container Load Monitoring System.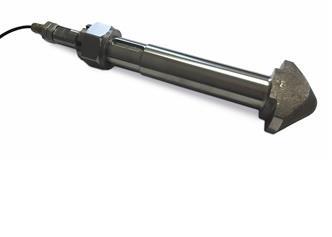 From 1st July a new amendment introduced by the International Maritime Organisation (IMO) requires recording of the verified Gross Mass of every shipping container.
With a specialist team of Design Engineers DLM have over 25 years' experience specialising in the design and manufacture of high quality bespoke load cells and load monitoring systems, whilst AMBA dockside have over 15 years' experience in design, installation and maintenance of port equipment.
The new Twistlock Load Cell and Container Monitoring System is designed specifically to be retrofitted into existing spreaders used to lift containers on Straddle Carriers, Ship to Shore Cranes and Reach stackers amongst others. The system consists of a bespoke Twistlock Load Cell matching the exact ISO requirements for Twistlocks and with a 6:1 safety factor, along with an optional HMI monitoring screen for the cab. The complete system is designed and manufactured in the UK by DLM and AMBA dockside both of which hold ISO:9001:2008 quality standards.
DLM's Technical Manager Chris Scrutton commented: 'The distinct advantage of making the Twistlock itself into a Load Cell is that it offers an area of even load distribution (360° around the twist-lock) and as it is located on the extremities of the container it is best positioned to enable centre of gravity calculations and accurate weight determination, which can clearly be seen on the HMI monitoring screen.'
The solution is already proving to be popular as it fits precisely into the existing machinery and provides a cost effective, accurate and repeatable load reading with minimal installation required.
Visit Dynamic Load Monitoring at Seawork International 2016 on stand SB103.
By Jake Frith