Details have been announced of propulsion and deck machinery packages for Crowley's eWolf destined to be the US's first battery-powered harbour tug./p>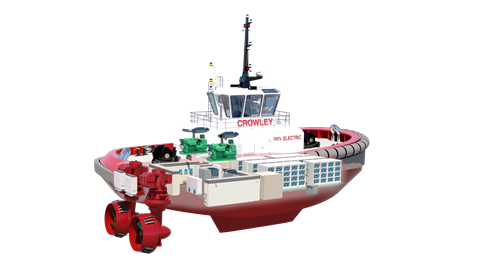 eWolf is under construction at Alabama-based Master Boat Builders for Crowley Maritime Corporation and destined for operation at San Diego upon delivery planned for mid-2023. Swiss-based ABB has reported it will provide the 'end-to-end' electric propulsion system for the 70 ton bollard pull all-electric tug including a 6MWh energy storage system allowing a full day of typical work before recharging. ABB will also supply its Onboard DC Grid power distribution system platform.
Separately, Nesttun, Norway-based Corvus Energy has been selected by ABB Marine & Ports to supply the energy storage system for eWolf comprising its 6.2MWh Corvus Orca Energy battery. The company is reporting increased tug industry interest for all-electric propulsion systems with Corvus Energy USA president Sveinung Odegard stating: "We believe this trend will continue globally due to the proximity to shore and opportunities to eliminate emissions within city limits and harbours. We participated in the first all-electric tug in Europe and are excited to be a part of the efforts by Crowley to build the very first one here in North America."
'In a nod to quality machinery', is how US-based Markey Machinery describes its securing of an order for two DEPC-48 hawser winches for eWolf. Markey states that as a 'one-of-a-kind' vessel, stakeholders will be closely following how effectively eWolf operates on battery power before deciding to embrace this new technology.
The winches weigh in at 9.29t each and spool 152m of 23cm circumference high strength synthetic line rated at 390 ton/m breaking strength. A pneumatically actuated band-type drum brake will hold the tow line tensioned up to 278 ton/m with a 50hp AC-variable frequency drive geared to produce line speeds to 88m/min with a 'motor-mounted encoder' closing the feedback loop for extended line pulls to 19 ton/m. Several options are included for controlling the winches independently or joining both for in-port mooring. Setting the tension in render/recovery mode enables the sensor input to monitor line load and continuously adjust the scope of the line as the tug is manoeuvred, while actuating 'free wheel' mode disengages the drive allowing manoeuvring unencumbered by hawser tension.
By Peter Barker