At 20 metres in length 'San Gottardo' is one of the smallest ships exploring the waters of the Arctic reports Dag Pike.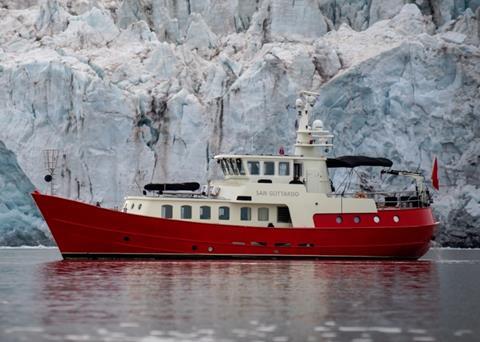 With a bright red hull, the traditional colour of ships that are designed to operate in ice covered waters, the San Gottardo both looks the part and acts the part of an Arctic explorer.
The story of San Gottardo started 55 years ago in the Dutch fishing village of Harlingen in the north when the five Amels brothers decided to build a trawler to be called Vijf Gebroeders (The Five Brothers) to make their fortunes from fishing in the North Sea. The bank foreclosed and even though the boat was rebuilt and modernized several times in attempts to make it viable it was finally taken out of service in 1994 after 30 years.
After 13 years in lay-up a refit began to convert the vessel into a cruising yacht for Dutch ship's captain Gerrit de Jong. The hull was taken right back its basic steel and a new superstructure added. The main engine was replaced with a completely overhauled Caterpillar D343 diesel and this was coupled up to the remaining prop shaft and slow running propeller. This 430hp unit is the heart if the new ship and then all of the onboard systems were replaced, with most of then doubled up to ensure reliability and for the equipment on board on which the safety of the ship depended there were often three systems for back up.
Halfway through the refit at the Altena Shipyard the vessel was sold to a Swiss charity, the Swiss Arctic Project and was fitted out as an Arctic research vessel to be based in the Svalbard Archipelago at about 80°north.
The climate up in Svalbard is pretty brutal. In the winter extreme low temperatures down to -20°C are quite normal and even in the summer months it rarely rises above 5°C. "We have equipped San Gottardo with at least two of everything so that there is a backup if anything should fail," commented Charles Michel, the captain of San Gottardo. "You cannot take chances in these remote waters."